Inspired by fairytales and fables with a twist, Tiffany Jeans' curios are wonderfully unique. The artist shares her aesthetic with Viva.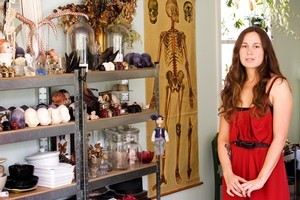 Tiffany Jeans is the face behind Curio Noir, a line of hand-crafted unique curios described as "slightly arcane but laced with a bespoke beauty". Jeans, who also works as a makeup artist for magazines like No, makes each limited edition piece by hand, drawing inspiration from fairytales and fables - mixing the pretty with something a little bit sinister. The Lilith Doll candle and Skull wax figurines are recent creations, while the Noir Glass is next, a candle scented with Jeans' Vetyver Bouquet perfume inside a hand-blown glass holder, to be used later as a vase. The packaging is just as beautiful as the treasure inside, making the pieces perfect Christmas gifts - they're available from select boutiques around the country (visit curionoir.com for stockists). Jeans tells us about her favourite things, from flowers to fragrance.
10 FAVOURITE THINGS
1. Fresh flowers
I buy flowers weekly for the house. I find every stage the flowers go through beautiful, from a bud through to falling petals.
I love seeing the girls at Roses in Mt Eden for their wonderful selection.
2. Richard Orjis
Richard is amazing and I love his art. We have a few of his pieces at home, as well as a portrait he did of me named I am a tree. He shot the underwater and floral campaign shots for Curio Noir.
3. Tim Walker Pictures
This book will always be a source of inspiration for me. I love how his images draw you into a fairytale-like place. Only someone with talent like his can think up such ambitious ideas and bring them to life in such a beautiful way.
4. Absolute Pilates
I believe pilates is a wonderful form of exercise for everybody. I am studying to be an instructor here and I hope to build a world of knowledge like my teachers Sam and Clare. They have a huge selection of mat and reformer classes, as well as specialty workshops.
5. Jessica McCormack jewellery
Stunning delicate pieces doused with diamonds. I have my eyes on the whole bird bone collection. Stocked at Simon James Concept Store.
6. My black dolls
I made these when I was 13 and had them sitting on my bed for many years. My grandfather used to fix the arms and legs with black tape for me when they would fall off. My sister would hide them as she thought they were scary and then hide her dolls for fear I would de-limb or paint them.
7. Alexander McQueen
I'm still in mourning. His vision has been truly inspiring to me for so long. I do believe Sarah Burton is doing a wonderful job following him and I look forward to her future collections under his name.
8. My indoor tree
I saw this monstrous Ficus Lyrata Bambina and just fell in love. I've been caring for it like it is my third child. The colour of its leaves are a luscious green and the shape of them remind me of the days I played the violin.
9. Bunnings Warehouse, Mt Roskill
Such friendly and helpful people work there. It's amazing how every time I'm there (every other week), I ask anyone where something might be and they know exactly which aisle it's in and its whereabouts. I love Bunnings.
10. Vetyver Bouquet
Curio Noir's first perfume in The Lilith Doll. This was mixed in France and has notes of cypress, orange flower, jasmine and vetyver; the perfect scent for summer days and nights. The Lilith Dolls we have placed around our home omit the scent beautifully even when they aren't alight... and every time I make a candle I sneakily dab some perfume on my neck so I can keep the scent with me when I leave the house.