Herald Rating: 4/5
Address: 96 Hereford St, Christchurch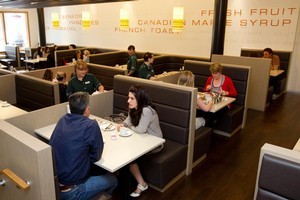 We came here because we were in Christchurch for the day and this iconic all-day "breakfast restaurant" had been recommended by so many people for its extensive, American diner-style menu, that we made it one of the essentials of our whistle-stop tour.
We walked in and immediately thought the decor was simple but it covered all the bases of what you'd expect in a diner. The sizeable, comfy booths had places set all ready for patrons, complete with pottles of jam and cream, and jugs of milk. You can order many items off the menu in one, two or three-piece portions.
The most unusual thing on the menu was the peach and orange french toast ($7.90/$12.90/$15.80).
We ordered a bacon bagel - crispy bacon with cream cheese, alfalfa sprouts, tomato and red onion in a poppy seed bagel - and one of Drexel's signature hash browns ($13.50), and a delicious banana pancake ($7.90).
The coffee was bottomless. We opted for their special blend filter coffee to complete the diner experience ($2.90).
The service was extremely good.
We recommend if you come here you don't eat for two days beforehand so you can take full advantage of the menu. On weekends, it often pays to book.
Overall we thought Drexel's will be a regular stop on any of our future visits to Christchurch - thank God it survived that earthquake.