Waiheke Island's boutique wine industry is growing in experience, variety and profile.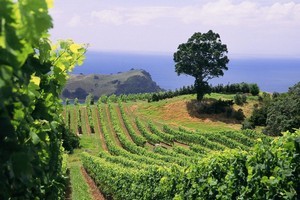 Sipping a delicious syrah on the shore of Man o' War Bay makes the battles of Auckland's traffic seem much further than the hour or so they are away. I'm sampling Man o' War vineyard's beachfront cellar door, a new addition to the spectacular landscapes of Waiheke, and what I have in my glass is indicative of an expanding range of stunning wines now being made by producers across the Island.
With just 216ha of vines, Waiheke may be one of the country's smallest wine regions, but its wines are one of the Island's big draws. Once there were just a handful of top quality producers here and a fair amount of mediocrity, but recent years have seen their ranks swell and a host of world-class wines emerge.
Its winegrowers claim the island is miles away from the mainland in terms of its weather too, being partially protected from the prevailing colder and wetter west and southwest winds, which make it drier, warmer and consequently better suited to grape growing than much of the Auckland region.
However, it still faces some climatic challenges, such as rain at inopportune times. Wind can also wreak havoc at flowering - but though this can result in crops at almost uneconomically low levels, greater concentration can be its positive spin-off.
Slopes dominate Waiheke's vineyard terrain, offering a variety of exposures and altitudes that suit an array of different grape varieties. While it made its name through blends made from red bordeaux varieties, such as the iconic and super-expensive Stonyridge Larose, there's now more diversity in its varietal mix.
Syrah is becoming one of Waiheke's star performers, and lesser-known grape varieties, such as Italy's montepulciano are starting to come on stream. Once regarded as a red wine producer, it is now also making impressive chardonnays, and the likes of viognier and pinot gris are also showing promise.
Waiheke's wines don't come cheap. "Making high-quality, distinctive wine on Waiheke comes at a significant cost," explains Mike Spratt of Destiny Bay and president of the Waiheke Winegrowers Association. "Our terrain, which requires hand-tending and harvesting, high land prices, equipment and overhead investments and has a limited labour pool, combined with our very limited production volume, conspire to make our per bottle cost among the highest in New Zealand."
Despite the high costs of production, there has been criticism that some of the island's wines have been priced way above what they were actually worth.
"Waiheke did go through a period of over-priced and over-hyped wines that damaged the reputation of some wineries," notes Man o' War's Sara Fogarty, "but in more recent years there has been a resurgence of quality-focused producers turning out outstanding wines at prices competitive to that of other quality-focused producers throughout the world."
Waiheke's prices will never be rock bottom, but an increasing amount of wines can now be found at under $30. These provide a more accessible entry point for drinkers interested in dipping a toe into the region's wines for the first time.
The island's beauty and proximity to the hub of Auckland has doubtless drawn a disproportionately high number of international visitors who've gone forth and spread the word about Waiheke, giving it a global profile that belies its boutique proportions.
It may be easy to be wooed by a fabulous view when tasting Waiheke's wines in situ, but back in the city and sampling a selection on a dull day, I have to conclude that they're getting as attractive as the island's vistas.
WONDERFUL WINES FROM WAIHEKE
GREAT GUNS
Man O' War Dreadnought Waiheke Island Syrah 2008 $45.99
Its largest estate by far, Man o' War is one of Waiheke's wineries that recent years have seen go from strength to strength. Testament to this is the fragrant flagship syrah from its steepest slopes, which combines dense dark berry fruit and rich bitter chocolate, with sweet spice, sandalwood and black pepper aromatics, supported by a fresh minerally backbone. (From Caro's, Glengarry, Village Winery, Mairangi Bay Fine Wines, Fine Wine Delivery Company, Advintage, Liquorland Tauranga, Liquor King Napier.)
WHITE POTENTIAL
Cable Bay Waiheke Island Chardonnay 2008 $34
This elegant and savoury chardonnay with its biscuitty, nutty and ripe but restrained stonefruit flavours backed by a minerally freshness illustrates Waiheke is not just red wine country. (From Glengarry, cablebay.co.nz.)
ROCK AND ROLL
Passage Rock Waiheke Island Viognier 2008 $30
A rich and voluptuously textured viognier with wonderfully pure fresh apricot and lemon fruit laced with exotic spice. (From Wine Vault, Point Wines, Herne Bay Cellars.)