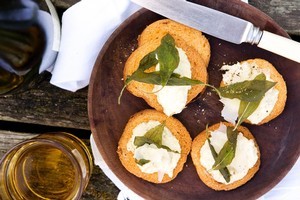 Makes 12
1 baguette
olive oil
salt
4 artichoke hearts
1 clove garlic
3 tsp lemon juice
1 tsp smoked kelp
Pecorino cheese
Fresh sage leaves
1 Preheat oven to 180C. Thinly slice the baguette and brush each round with olive oil. Sprinkle with salt and bake for about 10 minutes until golden.
2 Puree the artichoke hearts with the garlic, lemon, smoked kelp and enough olive oil to make a smooth puree.
3 Spoon on to the crostini. Shave the pecorino. Heat a small pan and cover with a film of olive oil. Add the sage leaves and cook for about 10 seconds or until crispy, moving and turning them in the pan. Drain on a paper towel. Top the puree with a little pecorino and one or two sage leaves.
(To prepare fresh artichokes trim the stalks to 5cm. Break off the outer leaves until you begin to see a yellow base to the leaves. Using a spoon, remove the fluffy choke in the centre and discard. Keep a lemon handy to rub all the cut surfaces because artichokes discolour very quickly, Then either boil or steam. Once pre-cooked they can also be fried.)