Lovingly made canapes can make all the difference to a pre-Christmas gathering.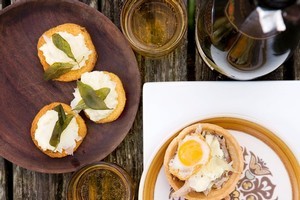 How lovely it is to welcome this time of year, full of promise - holidays, camping, barbecues, relaxation ... not to mention a big, fat turkey or ham.
Inviting people around to celebrate the festivities gives the perfect excuse to rustle up tasty canapes to serve with pre-Christmas drinks.
Variety is the key when it comes to finger food. Giving some thought to the cases and bases will prevent the offerings looking uninteresting.
Today's offerings include small tartlet cases with succulent smoked fish topped with a piquant dab of caper mayo and a gently fried quail's egg. We also have fresh artichoke pureed with lemon, a little smoked kelp, olive oil and garlic, then spooned on a crostini and topped with shaved pecorino and crispy fried sage. Finally there is a trip down memory lane with fish fingers - but without a frozen morsel in sight.
Instead, they're made of delicious fish cooked until just done in a little butter and salt, then flaked into fluffy boiled agria potato and combined with chervil, feta and lemon. After that, they're coated in panko crumbs and cooked in the pan, then served with a homemade or artisan tomato sauce to make a very tasty and satisfying mouthful. Serve hot with a squeeze of lemon.
Have a go with these recipes and you will be sure to impress your guests. Tasty homemade canapes are more impressive than picking up breads, olives and dips from the local supermarket and it proves you have shown a little love, which is what it's all about.
Chef's tip
Canapes need to be kept small. Anything able to be held easily and simply popped into the mouth works well. You need a free hand to hold a glass after all. If lack of time is an issue, tartlet cases can be bought pre-made and tinned artichokes can be used - just drain well to remove as much brine as possible. Also look out for whole artichoke hearts, pre-prepared in good delis.