New Zealander Henry Hargreaves is an ex-model making a name for himself in the Big Apple with a book celebrating breasts.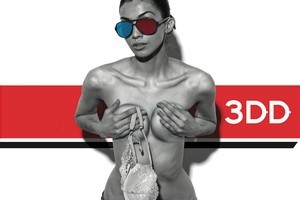 It's not voyeuristic, it's a celebration of breasts, and it's by a New Zealander. 3DD is a new book from ex-model turned photographer Henry Hargreaves, which features black and white photos of women and their breasts - in 3D. It's bold and brash, and definitely not for prudes, especially once you put on the 3D glasses that come with it (which funnily enough, look similar to the glasses favoured by controversial photographer Terry Richardson, who would no doubt love this book).
It would be easy to brush this off as unjustified soft-porn, but as the foreword in the book explains, "we could have thrown in some academic analysis on the prominent role of the nude in the history of art and elaborate on the ways that 3D advances that canon".
"We might have pointed out that the beautiful images of natural breasts in all shapes and sizes are a wonderful celebration of real women in all their glory. Or we could have revelled in the universal truth that looking and talking about boobs is just a lot of fun. But that would be to complicate something that can be said in four words. Boobs in 3D. Enjoy."
Hargreaves grew up in Christchurch, and had a very successful modelling career before going behind the camera - he appeared in campaigns for Prada, YSL and Jil Sander, and still models occasionally. He also attended Christ's College, where you should soon find his book. "They have a beautiful library and every old boy who has had a book published gets their book in the library. That is a very exciting prospect..."
3DD has the Marc Jacobs seal of approval too, having had launches in his BookMarc bookstores. We caught up with Hargreaves following the Los Angeles launch to talk about being shot by Richard Avedon, life in New York, and, of course, boobs.
* Limited copies of 3DD are available from the Simon James Concept Store, $48. Ph (09) 489 6955.
Tell us about the background to your new book - how did it come about?
I have always loved photography and trying some of the more interesting techniques. I had shot ambrotypes, stereoscope and figured out how to do analytic 3D, red/blue images. This was about three years ago before the new of wave of 3D films were released, and 3D was still, Gorilla at large, or House of Wax. I did a 3D fashion shoot and was so excited about the playful results that I wanted to turn it into a project of its own. Next was to figure out what I would shoot...
So why did you decide to focus on breasts?
I had to think what would work well in 3D: portraits and landscapes would be lame, fashion would only be interesting for so long. To me 3D is something that is fun and kitsch and needs to be something that pops out at you, then eureka, boobs! I have always loved boobs and I know most of my friends, whether they are boys and girls, are also interested in them as well. So we thought that real girls with all-natural boobs in relaxed and fun poses could make great shots and really celebrate them.
How long did you work on the book for?
Well when you say work it sounds so difficult! I shot for over a year, during which time I linked up with my partner in crime, Harry, and we decided to really go for it. We found an agent, then linked up with a publisher who could help us get in stores. It took nearly nine more months for us to find printers who would and could do it, go over the proofs, final layout, glasses design and so on.
You're based in New York - when did you move there?
I arrived the week of the September 11 attacks, was in and out for a few years then relocated permanently in 2004.
Tell me a bit about your life over there, and a typical day?
I live in a neighbourhood in Brooklyn called Williamsburg; it's my favourite place in NY. It's much more relaxed than Manhattan, is full of young people, amazing restaurants and bars, galleries, parks, and is only a 10-minute subway ride to the heart of Manhattan. My studio is a five-minute walk from my apartment. So on a typical day I get up and have breakfast and read my book at one of the local cafes, head to the studio, spend most of the day shooting there, having meetings and doing a little admin work.
Evening is my favourite time as very few people cook at home so the restaurants and bars are always full. Restaurants have always been a thing of mine, I worked for a couple of years at the Lone Star in Christchurch to save for travelling, then bartended in London and in my early days in NY; it's something that is still under my skin. So at night I will meet up with my friends and go exploring new spots or old favourites in many neighbourhoods and see where the night takes us...
Your book had its launch in Marc Jacobs' new BookMarc stores - how did that come about?
One of New York's most iconic bookstores in the West Village closed down and instead of seeing it become a cellphone store or muffin shop, Marc bought it and turned it into BookMarc. I have to admit, it is the best-curated bookstore I have ever been in. I wanted to see my book in there so I called up and arranged to meet the book buyer and showed her 3DD; she loved it and it has since become one of their biggest sellers. I also knew Marc from the fashion days as I modelled a lot for him both at Marc Jacobs and Louis Vuitton, and look forward to meeting him again now as an author.
Tell us about the launches: who was there, what was it like?
A lot of fun! Marc Jacobs has an arrangement with Sofia Coppola's champagne company so there was plenty of that flowing, people of all ages and backgrounds there to celebrate breasts. I even had a special pen made to sign the books in red and blue ink. After the LA launch, we went on to a club called Voyeur which is LA's club of the moment. They had burlesque dancers for the special night, who had 3DD images projected behind them while wearing the aviators. It was a big, big one.
How did the transition from being in front of the lens as a model to behind it as a photographer happen?
I had always done photography at school, then did film at university, so had the basics down. When I was being shot I would quiz the photographer and their assistants on the lighting and camera specs. I bought a medium-format camera while in Tokyo and began shooting the other models out there. I wanted to have control of my career as opposed to having the right look at the time, so I decided to set up shop in New York and concentrate on that.
What are some of the highlights of your career as a model - what are some of the big jobs you booked?
I had a great run, and was in campaigns for Prada, YSL, Jil Sander, Lacoste and so on, and did the runway shows for nearly all the big designers; Louis Vuitton, Gucci, Calvin Klein. I even did Nom*D when they did a show in NY which was really cool - they were the only New Zealand designer I ever got to do anything with. But probably the highlight for me was being shot by Richard Avedon: we did two days of portraits together which was amazing, and I even got two 8x10 polaroids from him; one of which now hangs in the family sitting room.
How often do you come back to New Zealand?
I grew up in Christchurch and go back at least once a year and have now also begun to link up with the family overseas to see them more frequently. It's about 26 hours trip from JFK to CHC. I also have an apartment in Queenstown, so will divide my time between my parents' home in Christchurch and my pad down south when I'm back.
Who are the girls you photographed for the book? Friends, models, randoms on the street?
It's a mixture, about half are models and the other half are friends, co-workers... even the producer's cousin made a cameo.
Who do you hope reads and enjoys the book?
I hope it's read and enjoyed by all people, but I get a real kick out of girls telling me how much they enjoyed it. One of my main goals was to cover girls' boobs of all shapes, sizes and ethnicities. I didn't want it to be another Playboy book where it only shows their "ideal women"; I wanted to show real women and when this is picked up on and appreciated it gives me a great kick. We actually just did an event with a popular lesbian party in LA - they love the book and used images for projections - a great stamp of approval for the celebratory aspect!
Do you have any projects on the go or planned for the future?
3DD volume 2! This is a project that we certainly want to keep going. We have our website - 3-dd.com - where we post new photos and people can sign up for 3DD-a-day - a new photo every day.