Asparagus is an elegant basis for early summer lunch-time soirees.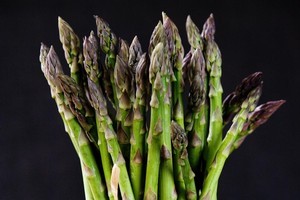 Warmer weather provides the perfect opportunity to throw an outdoor lunch - an elegant affair before all the Christmas madness sets in. Gather some friends around for a relaxed rendezvous - it's a great way to catch up and make the most of the garden while enjoying delicious food and discussing your plans for the party season and the holidays.
One of the most exemplary tastes of summer has to be asparagus.
I believe it hardly needs more than a quick blanch in the pot then a toss in butter with a healthy sprinkle of salt and pepper, but there are three alternative offerings today if that is not enough to tickle your fancy.
Heating up the barbie grill is a flawless way to cook asparagus. Brush the spears with a little olive oil, cook quickly over a high heat, season then set aside to add to a salad with char-grilled boneless chicken thighs and segments of juicy orange.
I found blood oranges at my lovely local vege store, and quite a revelation they were. They are heavy to hold, therefore very juicy, and quite a bizarre blood/orange colour when peeled, but they have a sweeter, less acidic flavour, so naturally I was won over.
An interesting way of eating asparagus is to slice the head and end off each spear then peel the stems with a vegetable peeler. Dress with a ponzu dressing, leave to marinate for a while then serve with fine slices of salmon carpaccio. This makes a raw salad that looks rather striking and tastes delightful.
For something a little more substantial, cook risotto with the flavours of asparagus and fennel then add lemon before serving with a spoonful or two of ricotta for a satisfying lunch or supper dish.
Chef's tips
Purple and green asparagus should be bright in colour with no signs of split or wrinkled ends. They can be prepared in the same way. White asparagus needs to be peeled before cooking because it has a thicker skin.