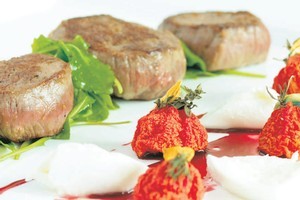 Serves two
4 vine-ripened tomatoes, crosses cut in top
1 garlic clove, peeled and sliced
2 sprigs fresh thyme
1 can black doris plums, stones removed
1 star anise, ground
3 tbsp dark balsamic vinegar
Handful baby rocket leaves
100g buffalo mozzarella, cut into wedges
300g venison, trimmed and cut into medallions
1 The term "suck" comes from the air-drying process, where the veins of the tomato stand out. In a boiling saucepan of water, blanch the tomatoes for 25 seconds, then place into ice water.
2 Peel the tomatoes and make a deeper slit in the crosses cut on top. Slide in a slice of garlic and a sprig of thyme. Place into a 100C oven for one-and-a-half hours until the tomatoes have shrunk. Drizzle with a little olive oil and salt.
3 Combine the black doris plums, star anise and balsamic vinegar in a saucepan, reduce to a light sauce consistency and puree in a liquidiser.
4 In a hot saute pan, add a little high-heat oil, season the venison and sear all over for three to four minutes.
5 To serve, smear a spoon of plum sauce on to a plate and top with venison. Stand a tomato, a wedge of mozzarella and a scattering of rocket next to the venison.