Gill South eases aching bones with a hot stone massage.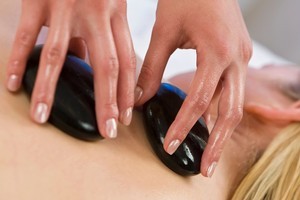 It's a pretty good feeling driving over the harbour bridge in the blazing sunshine on Labour Day with the prospect of a massage ahead. I've only had to bribe two boys with swords from the $2 shop on the way back.
This is not your standard massage, this is a hot stone massage. I'm going to see a friend of a friend, Gill Mayo, at the "Yoga for Every Body" studio - Massage for Women in Devonport. I am dying for this massage, I've been trying to squeeze one in since I returned from Melbourne a couple of weeks ago. My neck, shoulders and back are stiff and sore.
Gill is indeed delightful, with a nice Lancashire burr. She has a crockpot full of hot water heating basalt stones in a warm, scented room, with a cosy massage bed waiting. I have to say I was a bit hazy about how this massage was going to work - was she just going to plonk the stones on key spots and stand there and watch? I wasn't too keen on that. But it's all right, we negotiate a tailor-made massage for my needs, she slathers me and the stones in grapeseed oil and then starts massaging with the heated stones.
It works a treat. Gill makes sure I'm comfortable with the heat, and the warmed stones really penetrate my aches and pains.
Once Gill has massaged down the right side of my back, she then covers me with a warm, damp towel and places the hot stones on the towel, which gives the muscles a lovely nurtured feeling. Then she deals with the other side and does the same thing.
Gill shows me the stones after the massage. They look like stones you'd pick up on the beach - they are beautiful smooth, black basalt of varying sizes, from the South Island.
The final thing she does is massage my belly, very gently with both hands in a clockwise direction - it's called the sun and moon technique. I suck my tummy in, naturally. We talk about having a good digestive system. The massage therapist says it's important to have fire in your belly. I love that. It actually means something. The belly is the "I can do" energy centre. When you feel indecisive or a lack of personal power, it can indicate that your system is not working well, says Gill.
I go off to the shops and buy two swords very decisively. I've got fire in my belly, don't you worry.
Next week:
People keep telling me I am not having enough protein. I'm good at dinner but fall down at breakfast and lunch. So I go to see nutritionist Linda Outhwaite at Nutritionwise for some inspiration.