A Kiwi cook and a global baker have cooked up a recipe for simple but tasty home meals. By Kerri Jackson.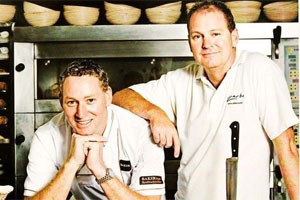 Hands up - who can cook a complicated gourmet feast but couldn't bake their way out of a paper bag? Or can you bake biscuits so good they make grown men cry but can't boil a potato?
Either way, you may care to browse through a new book by two Kiwi food gurus. In The Cook and The Baker by Dean Brettschneider (the baker) and Mark McDonough (the cook) the dynamic duo divvy up chapters, offering recipes and tips on breads, entrees, main courses, desserts and cakes, making it a masterclass in home cooking - and baking.
The pair have known each other for years and this is not their first collaboration - Brettschneider opened a micro-bakery in McDonough's iconic Auckland food store and cafe, Zarbo, last year which has been a roaring success.
Blending their talents for a book is an idea they've had kicking around for a while but once the bakery opened the timing seemed right.
The Baker: Dean Brettschneider
For Brettschneider, possibly best known for his role as a judge on TV3's bake-off show New Zealand's Hottest Home Baker, his aim for the book was simple - getting baking at the centre of the dining table.
For too long, he says, it has been relegated to the snack bar or the lunch box-an afterthought rather than the main event.
To say Brettschneider is passionate about good baking and the role it plays in a good meal is a huge understatement. He's practically a zealot.
"I've heard a lot of people say cooking is an art, but baking is a science. No. No. No. It's just as much of an art as cooking.
"This book, for me, is all about putting baking firmly in the food world. There are five chapters in it based on different courses in a meal, three of them involve baking - breads, desserts and petit fours."
Though he's back in New Zealand several times a year (most recently to launch the book and begin shooting a new series of Hottest Baker) Brettschneider mostly divides his time between his home in Copenhagen and London where he does a lot of consulting and product development. Before that, however, home was Shanghai where he still owns the successful Sugar and Spice baker.
It's a little wonder then that he now brands himself as the Global Baker.
"It reflects the fact that all those places and cultures influence my work. I'm not really a Kiwi baker any more, I'm a global baker.
"And I'm a collector of great things to do with baking. I like taking the best of what I see and passing it on."
Working in Shanghai particularly influenced his style.
"Am I going to start putting red bean paste in everything? No. But it did teach me there are no boundaries. You learn to borrow techniques and expertise.
"Asia is also very fussy about quality. It's important to take the time to do things properly. Don't use labour costs as a reason to be average."
He's thrilled with the results of his collaboration with McDonough. "He has a certain style with his food. It's tasty and robust. It's not too fine-dining, but he still has a vision."
They share a similar style that Brettschneider calls "Euro-Antipodean", and the fact McDonough is a "cook" rather than a classically trained chef ("It's not that easy to collaborate with chefs, they want to hog all the limelight") means they also share a commitment to making good food that can be easily recreated at home.
'For me it's about pushing the idea that breads and cakes and desserts are a part of fine dining.
"Baking is not just about big pies and fat ugly custard squares."
Savoury garden vegetable & cheese twist
The Cook: Mark McDonough
The quality of ingredients.
That's the key thing every home cook needs to consider, says McDonough, whether they're a dab hand in the kitchen or they've picked up The Cook and the Baker to hone their skills.
That said, it's the job of the cookbook writer, he adds, to make an effort to ensure ingredients in recipes are easy to source from supermarkets or Asian food stores.
"If you can't find the ingredients, the recipes are redundant.
And not only do people in central Auckland have to be able to find them, so too do people in all corners of the country."
Feedback from his previous books, and from his "extremely loyal" customers at Zarbo in Newmarket, has been that people "find my food very approachable", so that was his focus in selecting recipes for the book.
"I cook at home every night. These recipes are things I've tried there."
Like Brettschneider, McDonough travels a lot, which influences his food, but he's also a fan of more traditional dishes - things like potted cheese and terrines - and says he's noticed a growing interest in them among his customers, too.
"I think it's all a part of people being more interested in where their food comes from and wanting their food to be a bit more 'real'."
With Zarbo now in its 15yh year, McDonough has seen those huge changes in people's approach to food firsthand.
"Twenty-five years ago it used to be all Cobb & Co seafood baskets, but these days people are really aware of what's in their food, they care where it's from and really enjoy the simplicities of cooking and eating at home, as well as going out."
Which is where The Cook and the Baker comes in.
"I think, with the two of us doing it, it's a really well-balanced, unique cookbook.
"It covers a multitude of good basics that will help those people who are perhaps good cooks but not such good bakers, and vice versa."
Beetroot, grilled lamb & haloumi salad
* Recipes extracted from The Cook and the Baker, by Dean Brettschneider and Mark McDonough, (Random House, $45). Out now. The TV show The Cook and the Baker is now screening on Sundays on Food TV.