German author Johanna Adorjan tells Cathrin Schaer about researching her grandparents' life and death.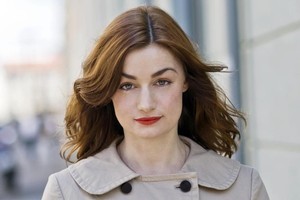 A sunny day in Berlin and camera-wielding tourists jostle one another on one of the German capital's most historic thoroughfares, Unter Den Linden. Sitting just off the grand boulevard at a cafe table, journalist and author Johanna Adorjan takes a contemplative sip of her drink and continues the conversation. Her subject is a complicated one and amid the bustling masses and under blue skies, also an unlikely one.
"I think if somebody wants to kill themselves, it should be their choice," Adorjan says. "And I don't think it's the worst thing someone can do. If somebody chooses to take his or her life, it is not for others to judge. Why should anybody live for somebody else, if they don't want to?"
She pauses again. "Obviously there is a big difference between young people and those who have lived a long, full life. I don't know. It's weird. Maybe suicide is only okay in certain circumstances."
Those "certain circumstances" were present in the lives of Adorjan's grandparents, Vera and Istvan.
The couple, Hungarian Jews, survived the Holocaust - she recalls that her grandfather learned to sleep on his feet while interred in a concentration camp to avoid being left behind or killed, and her grandmother went into hiding before fleeing to Denmark in 1956 when Hungary experienced a short-lived revolution against Soviet rule.
The couple had escaped death several times before they settled in Copenhagen. Then, in 1991, when her grandfather was diagnosed with a fatal illness, the pair took their own lives, a quiet double suicide in the suburbs. They prepared carefully, researching the best, foolproof methods to kill themselves and making plans for their pet dog.
On October 13, 1991, they went to bed together and never woke up. They were found a few days later in bed, holding hands.
"I was 20 then," Adorjan recalls. "It made a huge impact on me and I thought about it a lot. On the day of the funeral, to see two coffins - such a big impact. And I felt so mixed up about it. But I didn't intellectualise it, I didn't try to analyse it. But I thought about them very often and," she adds, "it was very loud inside of me."
Sixteen years later, an author friend suggested that Adorjan, who writes about culture for one of the country's biggest newspapers, the Frankfurter Allgemeine, explore her grandparents' deaths further, in literary form. Adorjan wanted to write a book and she decided this was a good idea.
It took her five months to do the research - this involved visiting and interviewing her grandparents' friends as well as family. A further five months of writing followed and the book, An Exclusive Love, was published in German in February last year. It has made the German best-seller lists twice and the rights have since been sold to 15 countries, including New Zealand and Australia.
Adorjan says she was very careful with her family. Her father was the first to read the manuscript. "I put my name on our family history," she confesses. "But everybody was supportive. I had to do lots of sensitive talking, to listen to their version [of events] and to their feelings. But then I also had to say, this is my version. If there had been any problem though, and they [her family] had said, 'this is not okay', then I would have stopped.
"Because they're my family and this is only a book." In fact Adorjan even kept her deceased grandmother's feelings in mind while she was writing. "I left some things out that seemed like too much information or that felt indiscreet. My grandmother would have hated that and I wanted to paint a respectful portrait."
Over the course of her interviews with friends of her grandparents, Adorjan found that her opinion of her grandparents and the event did change as she tried to reconstruct their last day, hour by hour. "I always wanted to know how their last day was," Adorjan explains. "I had vaguely imagined that it must have been really horrible. It was such a sad thing. I always thought they must have drunk alcohol."
But upon examining the police report, which was very detailed, she found that nothing could have been further from the truth. Her grandparents' last day seemed mostly ordinary - apart from the fact they dropped their dog off with a neighbour. Her grandmother had tidied the house and put flowers in vases.She also left all the lights in the house on. A small note near their corpses asked that they not be revived and another asked for understanding.
Adorjan says she didn't feel strange imagining the moments of that last day. "In many ways, it was like being close to them again. It is also a love story - but it's an everyday love story without violins," she laughs. "It's about two people who have grown old together and who were a bit grumpy with each other sometimes." Even during their last day together.
Adorjan's tone throughout is relatively non-judgmental. "I am not their child. I felt safe enough to see that this was exactly what they wanted and how they wanted it." She did, however, end up having a different impression of her grandmother - and possibly also about the nature of love and marriage - by the time she had finished her research. She had always held Vera - a glamorous, self-contained, slightly frightening beauty, even in her 70s, who "made her way along pavements as if walking over a red carpet" - in high esteem.
Often, she agrees, when you are researching genealogical myths and legends, the protagonists that you thought so much of as a child become more human. Her grandmother became "smaller", Adorjan confesses. "But maybe that's okay, because she was very huge before."
Asking around her grandmother's friends, it became clear that despite her somewhat haughty exterior, Vera had been insecure and apparently had always worried that nobody liked her very much except her husband.
"When I found that out, it was a shock to me. My grandmother was as human as the rest of us and it was not only love [that led her to suicide], it was also fear. Fear of being an old woman, of being left alone or being lost or being dependent on other people," Adorjan explains. "But, in the long run, she was more multifaceted and that enriched me."
In Germany, reviewers have taken some interesting stands on An Exclusive Love, calling it a statement on everything from feminism (standing by your man, even unto death) to euthanasia (the couple got hold of an American book on how best to kill oneself) to an historical statement on the ongoing aftermath of the Holocaust.
While Adorjan isn't quite sure what to make of the feminist take on her book, she thinks that what her grandparents went through in their lives may have had an impact: "It's like, once you have been through what they had, where you could have been killed at any minute, then maybe you think, 'it's me who will decide when I die'."
Despite the impact her book has made, Adorjan is not too fussed about the messages others think her grandparents' story sends. Her favourite review appeared in weekly newspaper Die Zeit.
"They said it was like a eulogy. With great respect and at some distance. That was what I wanted people to get from it. And [writing the book] has also changed me. Whenever I told someone about this [the suicide] I was always close to tears. But now I feel like a great weight has lifted."
An Exclusive Love (Text Publishing $32)