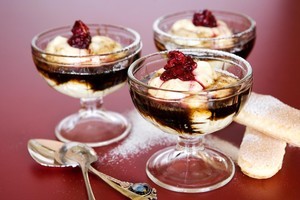 Serves 4
1 Tbs espresso grounds, plus 1 Tbs extra
1 cup milk
1 tsp vanilla extract
1/2 cup caster sugar, plus 1/2 cup extra
3 eggs
2 cups cream plus 1 cup extra
3/4 cup water
raspberries
sponge fingers or meringues to serve
1. Put the first measure of coffee and the milk into a saucepan. Heat gently for 20 minutes then strain.
2. Return to the saucepan and add the vanilla and the first measure of sugar. Stir over a gentle heat until the sugar has dissolved. Beat the eggs and whisk into the warm milk mixture, stirring gently until the mixture thickens. Cool.
3. Whip the cream and fold into the custard, then freeze.
4. Make the syrup by simmering the extra measure of espresso with the extra sugar and 3/4 cup of water. Stir to dissolve the sugar and simmer until the mixture thickens.
5. Spoon the parfait into glasses, pour over the syrup and serve with fresh raspberries and either sponge fingers or meringues.