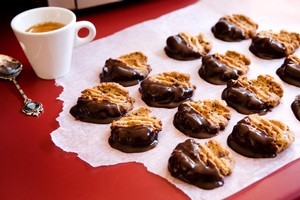 Makes 20
125g butter
1/4 cup caster sugar
3 Tbs condensed milk
1/2 tsp vanilla extract
1 1/2 cups plain flour
1 tsp baking powder
1/2 Tbs espresso grounds
1/2 cup dark chocolate roughly chopped, plus 1/2 cup extra for coating
2 Tbs cream
1 tsp butter
1. Preheat oven to 180C. Cream the butter, sugar, condensed milk and vanilla until pale.
2. Sift the flour and baking powder together. Mix into the creamed mixture with the coffee and the chopped chocolate. Roll spoonfuls into balls then place on a greased tray and bake for 20 minutes. Transfer to a cooling rack.
3. Melt the extra chocolate with the cream and butter in the microwave. Stir until smooth then dip the cooled biscuits into the chocolate. Lie on a sheet of baking paper to allow the chocolate to set before storing in an airtight container.