Herald on Sunday rating: * * *
Address: 34-36 Wyndham Street
Phone: (09) 379 9500
Website: calcuttawala.com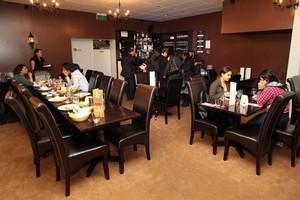 Of course the Commonwealth Games went off without a hitch. What's that? You call those hitches? Obviously you have never been to India.
Those of us lucky enough to have been touched by the magic of that country know better: everything works there. It may take 15 people and a lot of head-scratching and voluble, energetic argument. But eventually, against incalculable odds, it always seems to work.
We had watched with interest the long-winded fitout of this Indian restaurant, just across the street from the Herald on Sunday office, and when it finally opened, it seemed a good idea to take some sub-editors to lunch.
Sub-editors are people who spend a lot of time saving writers from themselves: they notice when the name of the restaurant in the review differs significantly from the name on the door in the photograph, for example. They are, in other words, good people to have on your side. They are also professional nit-pickers and, as such, make ideal companions for a restaurant reviewer.
Calcutta Wala's owner, Ravi Singh, assures diners in a menu note that his staff is "hand-picked in India" and "will not let you down in any way". If he meant that the staff would give us an authentic Indian experience - cheerfully chaotic and only eventually effective - he was certainly as good as his word.
The woman who seated us promptly vanished and everyone we asked to take our order said they would immediately find someone else who would do just that.
It was hard to work out exactly what the function was of all the impeccably attired and very gracious people milling about if it was not to take food orders.
This was not a one-off, I regret to say. I had lunched alone there a week earlier and had the same experience. I finally flagged down someone who admitted to being a waiter and reluctantly agreed to take my order, but with the expression of a man who suspected I was pulling a fast one.
Anyway, we finally got an order in but we had to ask several times for the drinks, which arrived in relays - beer first, wine 10 minutes later. The woman who ordered a lassi was practically in tears by the time they finally relented and brought it. It was the wrong flavour. She stuck to her original order, which suggested to me that she was either courageous or foolhardy.
We were just about to start eating our forearms when the five curries arrived. To our considerable credit, no one lost it while explaining that we'd ordered six. But we traded dishes - including a hot Madras fish curry, a chicken tikka pasinda (cashew and almond sauce with banana flavour) and a bony but tasty Nepalese goat curry - with great pleasure.
Calcutta Wala has an extensive and varied list of dishes and some good-value combo specials, and the food - don't miss the naan bread - is excellent. But the service is a little too chaotic to be comic.
Getting it right in the end is all right if you're only staging the Commonwealth Games.
On important matters, like lunch, it is not really good enough.
Ambience: Salubrious
Vegetarians: Naturally
Watch out for: Fawltyesque service
Bottom line: Teething troubles
THE BILL
$127 for six
Curries: $12-$19
Naan breads: $2.50-$4
Wine: $7 a glass
Beer: $5.50 a bottle
Lassi: $4 a bottle
* In last week's review of The Mediterranean, I described the menu as "either Lebanese-infected Italian or Italian-inflected Lebanese, depending on your point of view.
"Infected" was, of course, meant to be "inflected". I did not intend to slight, by way of a lame joke, all Lebanese food.