Address: 162 Mokoia Road
Phone: (09) 419 0911
Website: themediterranean.co.nz
Open: Tuesday-Sunday from 5pm; brunch and lunch weekends from 10am
Rating: 3.5/5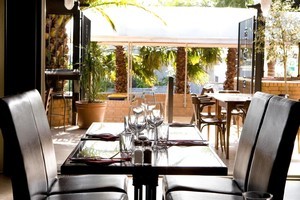 The tiramisu alone would have been worth the trip. Of course, it's not much of a trip if you live in Birkenhead or Beach Haven, but not everybody can be so lucky.
On the way I pass Chelsea View Drive, which leads to the house Rob Muldoon moved into after he lost the snap election in 1984. (I remember being dispatched there to interview him "at home" and nearly vomiting with shock when the photographer asked Rob and Thea to hop into the spa pool. Rob demurred, but kindly enough, perhaps even wistfully; I think he sensed that the photo opportunities were going to dry up soon).
Anyway, moving right along - the road, I mean - I come across this place, part of a function centre and thus boasting the kind of parking people on my side of the bridge only dream about. It had excited the interest of a couple of Shore-dwellers I knew and so we met there on a Thursday night.
Plainly the place has a decent following already because it was soon humming - or rather echoing; hard surfaces and a very high ceiling make for a noisy experience.
It is also listed as one of the people's choice winners on a popular dining website, although that may not be a reliable recommendation; there are a few others in the list that I would not eat at again, even at gunpoint.
The brick cladding is perhaps more evocative of suburban Presbyterian churches and rest homes than the Med, but an outdoor terrace has couches and there is table soccer, the pool-table equivalent found at almost every bar from the Channel to the Aegean Sea.
Inside, the menu is either Lebanese-inflected Italian or Italian-inflected Lebanese, depending on your point of view. The antipasti platter has pancetta and parmesan but there are Levantine standards like tabbouleh as well. An excellent saganaki, a Greek dish of grilled haloumi, is served on a big pile of roasted peppers.
It was to a platter of hummus and baba ghanoush that we first turned our attention and we were not disappointed. The former was almost heartbreakingly creamy, the latter smoky and rich with garlic. When we asked for more bread to mop up the last mouthfuls, we got more hummus as well - delivered by smiling proprietor Eduardo Nakhle.
If the mains were not quite up to the same exemplary standard, there was nothing wrong with them: I asked what the spices were on the "Moroccan-spiced" lamb cutlets and was told that "chef buys them pre-mixed", but the meat was most tasty if a little overcooked (I was not asked to specify how I wanted it done) and the six-cutlet serving came atop a good medley of veg and spud.
My companions gave good reports of terakihi (a tahini and yoghurt dip made a nice alternative to tartare) and chicken breast with a parmesan crumb.
The generous servings had left us little room for dessert, but the co-owner, Adrienne, talked us into sharing a tiramisu. It was a good decision: the rich, stiffly laced sponge was one of the best I've had outside Italy.
A small pizza margherita, which I sampled for research purposes only, was a disappointment - not crisp enough and topped off with slices of fresh tomato.
But the rest of the meal made the drive well worthwhile. This is a solid suburban performer.
Ambience: Echoing
Vegetarians: Thoughtful options
Watch out for: Terrace dining
Bottom line: A solid performance
THE BILL
$199.50 for three
Mezze plate: $16.50
Saganaki: $16
Mains: $25.50-$31.50
Tiramisu: $14.50
Pizza: $14
Wine (4): $35
Beer (2): $15
Water (1): $4