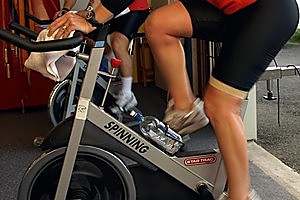 Spin. Such a nice, jaunty word, conjuring up images of giddy child-like ecstasy. At least I thought so until I tried my first spin class. Now the word has come to represent something else entirely - like torture.
The problem, if I am forced to be honest, is my utter absence of fitness. A pilates class here, a walk there have lulled me into thinking my fitness isn't too bad really. One spin class strips that fairy tale away brutally.
The first alarm sounds when one of the other two girls in the class idly describes what is to come as "45 minutes of hell" - and she appears to be constructed entirely of muscle.
Within the first three minutes of the spin class at Reab fitness centre in Ponsonby, the second alarm does not so much sound as scream: "What the hell are you thinking?" Trainer Kirsty Gregg is merrily encouraging this class of three to turn the bike resistance up to about six out of 10. It immediately feels as though I'm cycling in concrete trousers. I have nothing left. Already. With 42 minutes to go ...
What follows is a rollercoaster ride of switching between standing and sitting on the stationary bike, working between speed and resistance, and between me trying to decide whether I'm going to cry or throw up.
Throughout the class Gregg is upbeat and encouraging:. "Come on, just a little bit more resistance," she urges. I know she's talking to me as the other two appear to be cycling up the equivalent of a virtual Mt Everest while barely raising a sweat. I bravely nod and fumble with the dial, trying to cheat and turn it lower not higher.
After what feels like eternity the clock finally ticks around to that magic time - the cool-down. At this point Gregg generously allows me to turn the resistance right down. I don't have the heart to tell her it's been on the very lowest setting for about 20 minutes now and still I can barely move the pedals - my legs have gone from feeling lead-weighted to resembling underset jelly. Come the end I almost fall off the bike and crawl towards the changing room where I wait for the dots to clear from my eyes.
I swear then that spin is not for me and never again will my quivering legs go anywhere near a stationary bike. And yet ... and yet ...
The thing is if I want to get fit (and I do) and want to lose weight (and I do), spin is going to do it. Depending on the duration and intensity, you can burn an estimated 600 to 1000 calories (think one bottle of wine) per spin class. Plus, it's low-impact and if you choose a smaller class such as the ones at Reab you are motivated - largely by fear of humiliation - to try harder, rather than just cruising at the back of a large group.
It is 45 minutes of hell, yes, but if it's hell that works, it's worth considering - after a bit of a lie down in a cool, dark room.
Tips from the expert
Kirsty Gregg says: "Although it's a very tough 45-minute class it does suit all fitness levels as you are in charge of your own resistance. Even though I am there telling you to go faster or turn up your resistance you do work on your own scale of 1-10. Spin is fantastic for burning body fat as it is a great form of interval training. It also puts less impact on your joints than running. Lots of people find it beneficial if they've had knee issues and are trying to regain lost fitness levels. It can also be aerobic and anerobic and we play with both cardiovascular training and muscular endurance (strength) within the classes - the best of both worlds. I would build spin into a training regime by ideally doing two per week with one to two weight-centric circuit sessions and one or two boxing sessions. On top of that one or two pilates would be great also to help maintain flexibility and core control."
Reab studio in Grey Lynn, Auckland runs several spin classes a week