Virgil Evetts has lived most of his life in Devonport and brought partner Charlotte Perry back across the bridge with him. Virgil recently left the Auckland Museum where he was manager of the Children's Discovery Centre and now works from Devonport as a freelance food writer, while Charlotte works in HR for the Royal New Zealand Foundation of the Blind. In August they had their first child, Olive Evetts-Perry.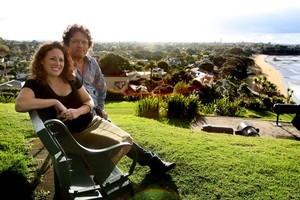 Devonport is one of those places that no one ever properly leaves," says Virgil. "It's like an elastic band. People may move away, but they always come back. It gets into the soul.
"We moved to Devonport when I was 5 and I spent my childhood here. Family is a big part of why I stay. But we really like our house as well. We are self-sufficient in eggs thanks to our four chickens, and have numerous fruit trees and a large garden which will eventually produce all the vegetables we will need. We also have a beehive for honey.
"Devonport doesn't feel like anywhere else in Auckland. It's like a rural village or an island. It feels like being on holiday."
Virgil and Charlotte's picks
* North Head: (Virgil). My absolute favourite place in Devonport is North Head. It was an important part of my childhood. I was always exploring the tunnels and rock pools.
I've seen penguins there and once I saw a pod of whales. North Head has been a constant throughout my life and I go there whenever I need a spiritual top-up. Takarunga Ave.
* Evergreen Books: (Virgil). I have bought most of my favourite books from there. I really like that Evergreen has a great food books section and sells new reviewer copies and new release novels for about $15. I've also picked up a number of Orlando the Marmalade Cat and Ant & Bee books, which I collect. Evergreen has been going since the 1990s and has always had great service. 15 Victoria Rd, Devonport, ph (09) 445 2960.
* Cheltenham Beach: (Charlotte). I love Cheltenham. It is the best beach in Auckland and possibly one of the nicest beaches I have been to in the world. We love swimming at Cheltenham and looking out at Rangitoto. The beach is a good length for a walk and there are no shops. Cheltenham Rd, Cheltenham.
* Village Shoes: (Charlotte). I buy all my shoes at Village Shoes. I get some really unusual shoes that everyone comments on, yet the prices are reasonable. 53 Victoria Rd, Devonport, ph (09) 445 0315.
* Ngataringa Bay Sports Grounds: We love walking around the back of the naval base on the Ngataringa Bay Sports Grounds. It is completely peaceful and almost desolate. We go there most weekends. Jim Titchener Parade, Devonport.
* Little & Friday: If we want to go to a cafe these days we jump in the car and go to Little & Friday in Belmont. It's in a suburban area surrounded by houses so they have to make a real effort with the food. Most of the cafes in Devonport itself are indifferent to the customers, both locals and daytrippers who are a captive audience. 43c Eversleigh Rd, Belmont, ph (09) 489 8527
* Cafe Santini: The Italian owner, Alessandro Orifici, used to have a cafe on the Devonport Wharf. He obsesses with knowing what coffee you have. He can remember 300 people going through in the commuter rush. One thing I like about his new hole-in-the-wall shop is the little crowd of old Italian men always sitting outside. They look like props. Wynyard St, Devonport.
* Asahi Sushi Bar & Restaurant: The food at Asahi is consistently very, very good, but the service can be almost comically bad. I like that it serves healthy food and that it is popular with all ages. You are just as likely to see a table full of teenagers, as a table full of retired people, or a kid running in before or after soccer to get some sushi. 9 Clarence St, ph (09) 445 0026.
* Other favourite places include: Hammer Hardware (13 Clarence St) for its keen and helpful staff; Skin Sense Beauty Therapy and Day Spa Retreat (53b Victoria Rd) for its great service; and Focus Dental (7a Victoria Rd) for its excellent sea views. "We're also looking forward to the re-opening of the Victoria Theatre (48-56 Victoria Rd), which is 98 years old," says Virgil.