A table full of different flavours is a great way to entertain your friends.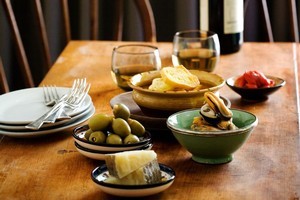 The Spanish have perfected the art of sharing food. Tapas refer to snacks or appetisers traditionally served with drinks at the bar. But this is also a brilliant way to entertain at home.
Offering a variety of small, tasty and stylish dishes is a sure way to impress one's fashionable friends and a perfect reason to have a get together at the end of a busy day.
Sharing tapas is a relaxed and convivial way to eat and a pleasurable way to cook. You can be as creative as you wish by discovering many different ingredients without having to focus on one main dish. Plus you can shop for gorgeous plates and dishes to give an authentic feel, and why not have a tasting of delicious Spanish wines and dry sherries to pair with the dishes?
Some of these ingredients may need a little fossicking to find depending on where you live. But we don't need to rely solely on supermarkets when there are many smaller food stores and markets that sell interesting ingredients like artichokes, sherry vinegar and manchego cheese.
I spied fresh globe artichokes at my local farmers' market two weeks ago, which inspired this recipe although they are just slowly starting to creep into food stores now. I know many think they are a palaver to prepare, including myself not that long ago, but it only takes one go and then it becomes a doddle. If you can't get your hands on them, good quality marinated artichokes will work, just rinse off the brine, pat dry with a paper towel and slice.
Mussels are so accessible and good for us; sometimes it is a challenge to prepare them in a different way. In a salad with crispy pancetta, fried bread and sweet roasted peppers you can't go wrong. This is a great salad to substitute fresh sardines, pan-fried, so grab them when you can.
The risotto balls, called arancini, because they are the colour and size of small oranges, will be the party favourite. Crispy on the outside, with creamy risotto encasing a big fat green olive stuffed with taleggio cheese on the inside - scrumptious indeed.
Chef's tip
Have a good variety of tastes and textures to appeal to different tastes - a selection of seafood, meat and vegetables is ideal.