Address: 33 Sale Street
Phone: (09) 358 1702
Website: clooney.co.nz
Cuisine: Contemporary NZ
Rating: 10/10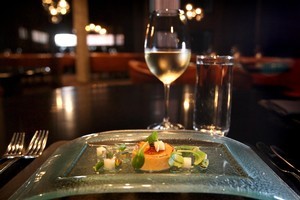 I'm not one to rush off to cloak myself in the latest new trend for the sake of fashion. Just because an eatery is considered "the place to be", it doesn't necessarily endear itself to me. Whether for this reason, or merely that I've never had the chance, Clooney has passed me by.
But with Fashion Week upon us, I decided it was time to suss out whether Clooney, nearly four years on, was still in vogue.
Escorted into the dining room I was rendered speechless. I'd seen the photos but still I was unprepared for its ingenious design. Jet black, floor to ceiling tassel drops partition the room, creating a surreal, see-through effect. The lighting is low and wait-staff appear and disappear like shadows.
Wine in hand, perusing the menu, my dinner date broke the silence with "I want everything". I couldn't have put it better. I was simultaneously filled with fear that I might order the wrong thing, and excitement at the prospect that there was probably no "wrong" on a menu like this.
We ate silky foie gras royale - a baked custard, barely set and bruleed on top. The deep, seductive flavour of the liver was brightened by scattered slivers of crisp apple. Another forkful, this time with the pistachio nuts, and I was in heaven with the contrast of textures and the way the nuts elevated the taste to a smoky note.
Our other appetiser was much simpler. Pristine silvery squares of sardines on crunchy house-made lavash, bathed in a simple dressing and topped with parsley. Marvellous, and we were only at appetisers. The quail entree was prepared partially de-boned with soft, melting flesh sweetened by an exquisite maple and mustard reduction. The initial sweetness was tempered by the astringency of pickled nashi and there was that textural surprise again, this time with roasted hazelnuts.
Chef Des Harris ensures that no single ingredient stands out. Instead, each dish is a combination of flavours coaxed together to create masterpieces. But he does simple exceedingly well. A twice-baked blue cheese souffle was an example. Served with a sprinkle of walnuts to contrast the airiness, I adored every cheesy mouthful.
The brilliance continued with our mains. Crisp confit duck leg - soft, rich meat underpinned with sticky prunes that lingered on the palate. A simple salad of bitter witloof and strips of crunchy apple cleansed the palate and made way for the delicate elderflower jelly. The lamb main is masterful too. Tender, juicy Southland lamb presented as two different cuts - the tight, lean loin served pink, and the more fatty sliced shoulder - on a bed of braised lentils and cushioned by a Jerusalem artichoke foam. Neither of us are fans of foam, yet we scraped the plate to get every last spoonful.
A pear tarte tatin with gorgonzola icecream and cubes of pungent blue cheese was incredible. On first taste, I thought I'd found a flaw in an otherwise perfect line-up. It tasted as though the caramel had cooked for that millisecond too long when caramel burns. How wrong I was. The blue cheese and icecream soothed the flavours beautifully. The brulee was another magical dessert - concentrated pineapple and elderflower flavours bursting through the dense creme.
Clooney's food is exciting, the setting is genius and the whole experience has an alluring quality. I'm still dreaming of the flavours.
From the menu: Foie gras royale $15, Sardines on toast $12, Eastherbrook Farms quail $29, Twice baked blue cheese souffle $24, Crisp confit duck $40, Leelands Southland lamb $42, sides of mushroom and fries $8, Stem ginger creme brulee $18, Pear tarte tatin $17.
Drinks: Fully licensed. Extensive wine list.