Herald Rating: 3/5
Address: 82 Gladstone Rd, Parnell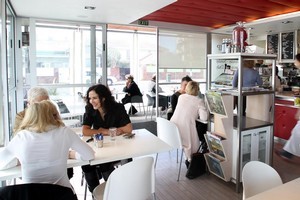 We came here because because we'd heard this was a buzzing cafe.
Parking was not a problem - although we did have to make a mad dash in the weather bomb.

We walked in and immediately thought it must be good to be able to attract so many people out in such nasty weather. Rosehip is obviously the cafe of choice for the locals, though it was fairly spartan inside.
The most unusual thing on the menu was the "breakfast salad" of cos, pancetta, bocconcini, vine tomato, avocado and poached egg ($18.50) - mainly for the idea of salad for breakfast.
We ordered Serrano ham and spinach baked eggs with sourdough ($19.50), haloumi on toast with walnut, beetroot and apple salad (another salad) and fig vincotto ($16.50), buttermilk hotcakes with cherry compote, mascarpone and cinnamon syrup with bacon ($19.50) and the kumara rosti with creme fraiche, salad and poached egg ($21). All were well appreciated, especially the hotcakes. The baked eggs came in a sizzlingly hot terracotta dish and made for a fine breakfast on a wet winter's day.
The coffee was great, although not enough hot water was served with the long black, we had to ask for more.
The service was attentive and friendly. We recommend if you come here try for a fine day and then visit the Parnell Rose Gardens across the road.
Overall we thought Rosehip was a good local cafe, though a tad expensive.