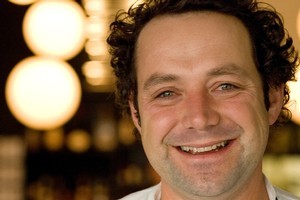 Some of New Zealand's top chefs will be on hand to demonstrate recipes at the Fisher & Paykel World Cooking Theatre during this weekend's Auckland Home Show.
Mike Van de Elzen, who owns Mt Eden institution Molten, is one of those taking to the stage, where he hopes his creations will inspire home cooks to take another look at how they use vegetables in their meals.
On his menu will be recipes for Asian vegetables with kikorangi and hazelnut crumbs; a tomato, white bean and olive oil soup and a mushroom tarte tatin with roasted rosemary vinaigrette.
Van de Elzen says he chose the tarte tatin because it is a way of showcasing mushrooms as a main ingredient.
"It's saying 'hey, vegetables don't have to be on the side'.
"I read quite a few articles about what's happening in restaurants overseas and the trends at the moment are the vegetarian dishes in restaurants are actually becoming more and more popular," he says.
Van de Elzen is quick to point out he's not anti-meat in any way - "I sat down to a Beef Wellington last night" - but says vegetarian meals can be exceptionally tasty if people take a bit of time over them.
"The vegetarian dishes that we've had at Molten over the last six years, we've always put a lot of focus into them, because - especially when you've got such a small menu - you've got to make every single dish attractive to every single person that comes through."
* Mike Van de Elzen's 'Amazing Vegetables - a way forward' cooking show is on at 11am on Sunday, September 12, at the Auckland Home Show. For the full World Cooking Theatre Timetable, click here.
* The Auckland Home Show is on at the ASB Showgrounds in Greenlane until Sunday. For more information, click here.
Mushroom Tarte Tatin with Roasted Rosemary Vinaigrette and Rocket
Serves 6

Ingredients
6 tarte tatin (see below)
1 handful fresh wild rocket
Roasted rosemary dressing (see below)
Tarte tatin
20 roasted flat mushrooms
6 cup saucer-sized discs of puff pastry
1 cup white sugar
100gm butter
1. Heat the sugar with a little water in a small pot and cook until a light caramel, cool the pot's base quickly in cold water.
2. Cut a piece of greaseproof paper slightly bigger than the puff.
3. On each tart, pour a little caramel and cool, then add a knob of butter.
4. Arrange the mushrooms into a fanned circle on top.
5. Cover over with puff pastry and pinch the edges flat to stop any juices from escaping.

6. Bake on 180C for approximately 15-25 minutes.
Roasted rosemary dressing
3 sticks fresh rosemary
3 tbs brown sugar
5 tbs cabernet sauvignon vinegar
1 tsp Dijon mustard
100ml pure olive oil
50ml avocado oil
1. Deep-fry the rosemary sticks very quickly or until the bubbles stop and place on a kitchen towel to drain.
2. Once cool, pick off the leaves and place into and mortar pestle and work in the brown sugar, vinegar and mustard.
3. Slowly add the oils: this dressing is not designed to emulsify so the liquids will separate after a period of time. A shake of the bottle will quickly bring them back together.
To serve
When the tarts come out of the oven, turn them onto a plate, remove the paper, spoon over generous amounts of dressing and finish with fresh rocket.