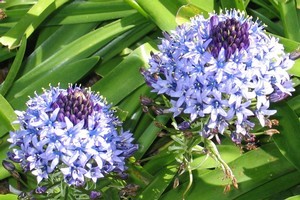 Like a mirage, "year-round interest" is one of those gardening goals that hovers perpetually just out of reach, no matter how many steps you take towards it.
We never want our gardens to be boring or bare, but inevitably they have their low ebbs when they need a cut back, a stake and a good square meal.
Most plants flower only for a month at most after all, and the ones with good foliage rarely surprise us beyond their one flashy costume, so a few lacklustre weeks in a 52-week run is to be expected.
Yet most of us try to stretch out the performance. We shoehorn in plants which flower in succession through the seasons, we deadhead and feed, adding some good foliage - evergreens for winter, a touch of autumn leaf and a scatter of early spring bulbs - but in a small space you just can't include everything and, in aiming to spread the interest, we inevitably dilute what may have been a punchy idea at the start.
When you have a larger-than-average garden, however, you have the great luxury of saying to hell with year-round interest in some places. Instead you can devote separate areas to particular seasons to create concentrated bursts of drama rather that the low hum of a long-running soap.
With room, we could all have a walled rose garden which blows the socks off in November and languishes through the rest of the year, simply taking another route around our palatial plot - perhaps past the South African rock garden which explodes only in September, the maple glade planted purely for its colourful two-week crescendo in May, or a herd of potted lilies designed to keep us awake after Christmas.
At Woodbridge garden in Coatesville, north of Auckland, Christine and Tony Peek have plenty of room to play with - almost 3ha - and though they are masters in the art of extending interest in their rolling plot, in places they have had the sense and bravery to restrict the planting palette.
No sooner has the crab apple avenue finished - each tree with its ruff of paper-white narcissus - than one of their most lavish but fleeting banquets takes place in the highest corner of their plot.
Crossing the stream which feeds the large pond at the heart of this sophisticated country garden, you wind under weeping willows to emerge into a glade where zig-zagging bolts of lightning are playing over a blue ocean - except that the bolts are tree trunks and the ocean is a shimmering expanse of bulbs.
Christine admits that the blue glade wasn't planned as such, but has grown organically, just as the 18 or so trees have expanded over the years.
"I inherited a bucket of free bulbs from my sister," she explains. "Each tree - mostly varieties of the birch Betula utilis, sat in little circular flower beds when we planted the first, 15 years back.
"We popped the bulbs at the base of each in a tight circle, but the mowing man got dizzy circumnavigating each tree, so in the end we took a deep breath and sprayed off the remaining grass and mulched heavily to create one gargantuan bed."
The Peeks top the mulch up regularly. "Fresh bark tends to rob the soil of nutrients," says Tony, "so we store it for a year out on the paddock to allow it to rot down a little before spreading it."
The bare soil looked bleak at first, but by allowing the bulbs the time to go to seed after flowering, most have continued to naturalise and now those tight little circles have broken their banks and become swirling torrents.
The English bluebell (Hyacinthoides non-scripta) which forms such enchanting carpets abroad doesn't grow so strongly in mild and humid Auckland, so the show is carried here mainly by stronger Spanish bluebells (Hyacinthoides hispanica), mixed with equally rampant muscari and weaving, fresh-faced mounds of forget-me-nots.
Christine appreciates the way the latter mound up and help to hide the dying foliage in the months after flowering, when the bulbs must be left in peace. A nice touch is the occasional exotic clump of Peruvian squill (Scilla peruviana).
"This is rather thuggish but good, because it's just a little earlier than the bluebells like the muscari, and so makes a good warm-up act," says Christine. In another concession to spreading the interest, a scattering of white foxgloves was tried, but they proved too aggressive for the bulbs at their feet. Recently white belladonna lilies (Amaryllis belladonna "Alba") have been added for an Autumn encore, but this is still, in essence, a place tied up with this particular moment in the year.
Like a laburnum tunnel, a great wisteria-clad wall, or a walnut tree at the moment the nuts begin falling from their shells, it's a spectacle which heightens the magic of the garden by virtue of its fleeting nature. Only a lucky few who catch it get to boast that they were there in its moment of glory, while the rest of us are left feeling hungry for more.
A garden that leaves you feeling either way is a garden worth visiting.
This week
* Begin staking floppy perennials such as Peruvian lilies (alstroemeria)
* Rather than using expensive and artificial-looking trellis, use tree twigs poked into the ground to lead clematis growth up walls and shrubs.
* Trim off last year's leaves of most ferns to allow new growth to emerge unadulterated.
* Take the finished flowers off hellebores if they tend to seed too madly around the garden.
* Leucodendrons are shrubs which respond well to a hard prune just as the coloured bracts fade. Cut three quarters of the length of flowered shoots leaving a good length of leaves at the base of each cut.
* Dig up and split grasses and ferns to make more.