There are lots of useful gadgets out there to help you stay motivated while pounding the pavements, writes Diana Clement.
Part 3 of a 3-part series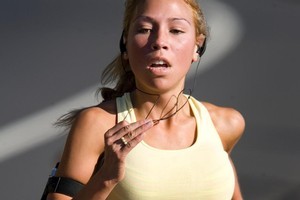 When Claire Postlethwaite dons her running shoes, her own "personal trainer" is strapped between the laces. The tiny Nike + iPod device measures how fast she is running and sends messages to her iPod as she runs, telling her how her workout is measuring up to pre-set goals.
A voice automatically tells her when she's done another kilometre, and towards the end of the run it tells her how many metres to go and warns her if she's slowing down. Afterwards it can give her feedback. The data is then downloaded to iTunes and Nikeplus.com where she can compare her statistics with earlier runs.
"I find it particularly useful for motivation and setting goals - both for distance covered and speed work," says Postlethwaite. "Having the iPod telling me what pace I'm running at all the time is great - and I find it really helps to motivate myself to run faster if I'm not quite hitting my target."
The Nike + iPod ($59) device is one of many high tech tools available to runners of all levels, enabling them to train the way elite athletes do.
Heart rate monitors can log and download detailed information such as altitude, pace and distance.
Like the Nike + iPod and adidas miCoach, which tracks heart rate, distance and pace, the latest Polar heart rate monitors have a foot pod that laces into your shoe. It counts steps and estimates distance. Companies such as SMHeart Link are producing heart rate sensors that send data direct to an iPod or iPhone.
It's also possible to buy GPS watches such as the Garmin Forerunner device. These give you precise speed, distance and pace data.
But it's the iPod, iPhone, and MP3 players that are having the biggest impact on runners. New exercise applications are being invented nearly every day. A number of these appeal to me, such as the Hundred Push-ups application ($1.29) which teaches you to build up your push-up routines. RunKeeper Pro is another must-have. It uses the GPS technology found in the iPhone 3G/3GS to track your fitness activity, giving you comparable results to the Garmin watch at a fraction of the cost - just $13.99.
And if you don't like running to music, there's an iPod exercise metronome which helps you increase your pace - or slow yourself down if you run too fast and exhaust yourself in the first few hundred metres of a run.
Tips
* Technology can be your buddy, doing everything from analysing your exercise data to shouting at you sergeant major style to buck up your training programme.
* Specialist heart rate and GPS devices are popular with runners and others.
* Your iPod, iPhone or MP3 player can be turned into a variety of devices including your own personal coach.