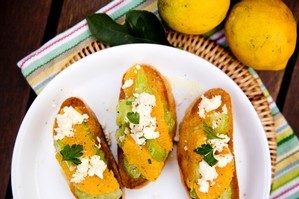 Serves 4
2 oranges
1 stick of celery
extra virgin olive oil
100g feta
salt & pepper
sourdough bread
1 fat garlic clove
black pepper
1 Peel and segment the oranges while reserving the juice.
2 Slice the celery finely and add to the oranges and the juice with 1 tablespoon of olive oil, crumbled feta, salt and pepper.
3 Preheat the grill or use a grill pan. Slice the bread and grill then rub with the cut edge of the garlic clove. Drizzle with more olive oil then top with the orange salad and an extra grind of pepper.