Hawkes Bay artist Martin Poppelwell has lent his talents to designing and producing The People's Wine.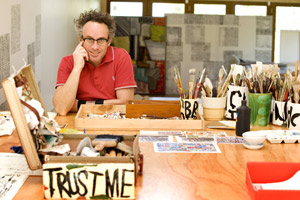 Hawkes Bay artist and potter Martin Poppelwell is a master of finding the joy in the everyday. He finds it in the far-from-perfect garden that surrounds his straggling Napier Hill villa, in the spring bulbs that pop up reliably and cheerfully each year. He finds it playing with words, in the cursive dance of pen and paper. He feels it in the physicality of the hands-on gearshift in his black-and-boxy Fiat Panda 1988 runabout.
Naturally, his joyful foundation is centred on the earthenware ceramics and paintings he creates in the sanctuary of his garden studio. His work, represented by the likes of the Anna Bibby Gallery in Auckland and Black Barn in Havelock North, is respected and serious. And yet, he is not beyond lending his humour-laced aesthetic to the ordinary and domestic. He has designed graphics for tea towels, aprons and cushions in the Esther Diamond homewares range, for instance.
Living as he does, surrounded by territory where vineyards amble across parched stony ground, it's little surprise that Poppelwell had long toyed with the idea of becoming involved in vinous visuals.
So when Rai Banbury, brand manager of Constellation Wines, invited him to design the labels for a contemporary range that was aimed at the mid-market but would nevertheless "spice up the wine category", his answer was an emphatic yes.
The idea of a wine that was populist and accessible struck an instant chord of familiarity.
A pragmatic Poppelwell was pleased that the large-scale production of this product named The People's Wine, and its wide distribution, meant it was viable in a business sense.
"I will be criticised for the commercialism," he says. But this full-time artist is comfortable that he makes the same decisions in this process as he does in his own work.
"In fact," he argues, "I have to take things a bit more seriously."
Banbury, whose parents once owned an art gallery in Christchurch, was excited to secure such a talent.
"We wanted him to bring the outside of the bottle to life," she explains.
Although she terms it a natural partnership, Poppelwell is not so sure.
"There's always been a mythical relationship between art and wine," he says. By which he means the common view is that drinking wine gives birth to art.
"I don't agree the two necessarily mix well."
So, although he was not quaffing crazily with a brush in hand, he certainly did his share of research into the five varietals of The People's Wine. This meant a road trip around the country.
"Each type is created in the best region for that variety," explains Banbury.
Sauvignon blanc is harvested in the Awatere Valley, chardonnay hails from Marlborough's Wairau Valley, pinot gris and merlot from the company's Corner 50 vineyard in Hawkes Bay and the pinot noir has its roots in Central Otago soil.
Poppelwell: "I wanted to know about the wine's provenance and its making as much as I was interested in the shape of the bottle."
He met several of the company's winemakers including Albie Dommerholt, based locally at Corner 50.
"It was nice to hear Martin talk about shared ideas and cross-pollination," says Dommerholt.
"When you're in a certain industry, you can get very inward-looking. It is good to have input from people on the street."
Dommerholt, who was involved in the production of the merlot and pinot gris, says there was a lot more experimentation with this drop. He points out, though, that winemaking is a craft, not an art.
"Martin gets to start with a blank canvas, but we always have to start with grapes."
Still, in this particular case, Dommerholt's tried to stay away from "too much science." He's pleased with the pinot gris, made from grapes harvested four years back that have a special spicy kick. And he says the merlot comes from the 2009 vintage, a year that was "nice and hot" which means it has a fruit-forward style that in the winery has not been complicated by too much oak.
He says part of his inspiration for the wine came from his wife who merely requested "something delicious" at the end of the day when asked what she'd like.
"There's no hiding the fact that we have to keep an eye on the commercial aspects, but it was nice to slip the constraints and do some more freewheeling."
In picking up on this theme, Poppelwell has brought a fun, rather different feel to the label. His modus operandi was to sit in on several winemaker tastings and just listen. He discovered a shared love of descriptor words. Then he used his onomatopoeic instinct. He describes it as, "When the sound of a word tastes like the idea [and] is an echo of what's going on inside."
Each bottle is fronted, then, by words in a brush-like script that is readily identifiable somehow as Poppelwell's.
The words are underlined with a light pencil mark, a childlike guide to keeping them straight. On the back of the bottle is a "pie chart" describing the characteristics of the wine. This harks back to the traditional wheel that oenologists use to determine and compare flavours.
"I steered clear of the traditional list of adjectives mostly found on bottles," says Poppelwell who takes his cues from the "beautiful knots" of words by authors such as Lewis Carroll or T.S. Eliot.
"The pie chart is not an accurate description but a visual diagram of how we feel the wine comes together."
An unconventional food match is also suggested. Thus you may be advised to combine Film, Fire and Friends with your pinot noir or schnitzel with mashed potatoes and horseradish (the ultimate retro food) with the merlot.
Complementing this are tiny hand-drawn visuals - Poppelwell's observations of pedestrian objects and vignettes that are part of day-to-day life in a vineyard.
"I wanted to make them funny and eye-catching and not too obtuse. I tried to hark back to the farming process and steered away from your typical New Zealand motifs," he says.
Icons include a vine leaf, truck, digger, tractor, and swan. "I like the fluidity of swans, the joy you get when you see the boring black swan and then notice its red beak, like a women with a bit of lipstick."
There were times when there was heated debate as to the direction he was taking. "But there's no point in working with people who just agree with you," he says.
Still the company had hired him to be himself and the results, well, speak for themselves. His calligraphic style is instantly recognisable to those who know his art and may help fight the battle to be recognised on the shelf. The words are familiar, but it's the thought behind them that counts. As Poppelwell says, "Anyone can write a word, but what do you want to say?"
Win with Viva
Viva is delighted to give readers the chance to win a limited edition Martin Poppelwell print which illustrates the story of The People's Wine. Just one of 200, it is valued at $1500. To go in the draw, simply write your name address and phone number on the back of an envelope and send it to The People's Wine Competition, Viva, NZ Herald, PO Box 3290, Auckland. Entries close on September 1. Winner announced September 8.
* The People's Wine goes on sale on August 30. Look out in Countdown, Foodtown and Woolworths stores for more chances to win a limited edition Martin Poppelwell print.