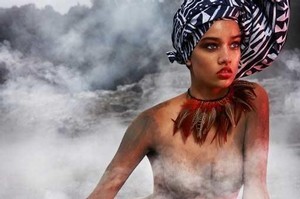 Pictures of a near-naked contestant on New Zealand's Next Top Model have been altered after concerns that the girl was too young to be shown nude.
A photo of 16-year-old Michaela Steenkamp appeared on the TV3 website yesterday morning showing her posing over a rock, her body smeared with mud but with her breasts clearly shown.
The website was displaying the contestants in last week's episode, shot in Rotorua.
The Throng website - which describes itself as New Zealand's TV community - approached TV3 and was told that Ms Steenkamp and two other contestants had worn adhesive covers for the mud pool shoot.
"We make every effort to protect the girls' modesty and none of the girls are forced to do anything that they aren't comfortable doing," TV3 said.
However, just hours later, a new photo - a doctored version of the original - was posted on the site, with white steam covering Ms Steenkamp's breasts. The photos of two other contestants, 22-year-old Amelia Gough and 19-year-old Danielle Hayes, were also altered with white steam covering their bodies.
Top Model later hit back at criticism of the original pictures, saying on Twitter: "For all those concerned about the images ... the girls are not naked - they have bits on their bits."
New Zealand fashion blogger Isaac Hindin Miller commented: "If there was no cause for concern ... why the sudden scramble to remove any trace of breast?"