Culinary obsessives view an overseas jaunt as an irresistible opportunity to acquire more utensils to clutter their already-crammed drawers and cupboards, writes Christopher Hirst.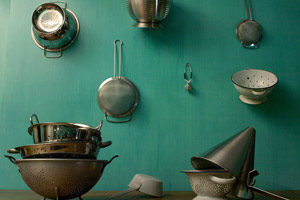 Instead of the unwearable Spanish hat or the undrinkable Italian liqueur, why not bring back a more useful souvenir from your foreign holiday?
From a supermarket outside Orvieto, we acquired two large, circular pans perfect for cooking risotto and braises. From a market in Lille, we lugged home a fragile haul of French white china, including a cow-shaped Camembert holder, a duck-shaped pate plate and a pig-shaped charcuterie dish. In Boston, Massachusetts, I secured a pumpkin carving kit, which emerges annually for the etching of crescent moons, witches and ghouls.
Culinary obsessives view an overseas jaunt not merely as a chance to sample such comestibles as sea urchins but also as an irresistible opportunity to acquire more utensils to clutter their already-crammed drawers and cupboards.
Incidentally, there is a device called a coupe oursin specifically intended for cutting open sea urchins and exposing the five edible gonads.
In his book North Atlantic Seafood, the late Alan Davidson described it as "a most satisfactory possession". The fact that a pair of scissors does the job pretty much as well is beside the point for food gadget nuts like myself.
Such is the inventiveness of humanity that a device exists for every imaginable culinary activity. My favourite gizmo is the stick blender (how did I ever make soup without one?), while my wife plumps for the KitchenAid Food Mixer, which takes the pain out of dough-making and scores of other tasks. From the nutmeg grater to fish-bone tweezers, from the olive-stoner (highly recommended) to the mandolin vegetable slicer, from the citrus zester to the meat thermometer, we snap up gadgets in the belief that our new acquisition will transform our gastronomic prowess.
Unfortunately, this does not always prove to be the case. On a trip to Seville a few years ago, I was excited to find a large conical steel strainer in a hardware store (an indication of my sightseeing priorities). After seeing Rick Stein utilise something similar when making French fish soup, I had long lusted after one.
Yes, I know you can get them in the UK, but they cost the earth. The Sevillian version cost €8.
Returning with my prize, I anticipated homemade fish soup making a frequent appearance on our dining table. Sadly, I have never used my strainer. Though I have the implement, I lack the requisite ingredients for fish soup (lobster shells, gurnard, conger eel, pouting, etc) readily available to Mr Stein at his Seafood Restaurant in Padstow.
Still, hope springs eternal. On a press trip to Portugal, I was swept up by the desire to buy a cataplana. This is a deep, circular pan similar in shape to a small wok but with a high, hinged lid that is clasped shut to keep the steam in while cooking clam and mussel dishes.
Again, I was aware of the device due to its appearance in Davidson's North Atlantic Seafood. (He must have been a gadgeteer par excellence.) I spent my time in Lisbon with eyes peeled, whooping in anguish as our tram rattled past a promising kitchen shop. When I finally tracked down a cataplana in a provincial town, a fellow journalist predicted: "You'll never use it."
Just to prove her wrong, I made ameijoas na cataplana (clams cooked with onions, tomato, bacon and chorizo) as soon as I got home. It was delicious, but I must admit that the cataplana has stayed in the cupboard ever since. I'm sure it would be ideal for dishes incorporating the UK's native cockles. Sadly, all but a tiny fraction of these delicious bivalves are exported to Spain.
I had better luck with an electric blender that caught my eye in Miami, though there was a slight hiccup before I could get it to function. Called the Osterizer, it is a splendid bit of Americana. Befitting an item from the most gadget-oriented country in the world, it is equipped with a row of 10 buttons for functions ranging from "Frappe" to "Liquidize".
Of course, it was a compulsory acquisition, even though it meant buying another bag to get it home. I can honestly say that the obvious problem with the device did not occur to me until I tried plugging it in. Not only was the two-pin plug completely wrong, the gadget required American electricity. A variety of travel adaptors produced black smoke and a smell of burning plastic.
The solution came in the form of a £40 transformer only slightly smaller than an electricity sub-station. I enjoyed my first iced daiquiri made using the Osterizer, but my pleasure was slightly diluted by the realisation that I could have bought the gadget here without the need for a transformer.
Of course, there are any number of foreign devices that have worked excellently. If you're keen on cheese fondue then buy the large Le Creuset version with a cast-iron bowl and spirit heater when you're in France. No longer sold here, it is infinitely preferable to the little ones marketed in the UK. At the Carrefour hypermarket in Calais, I secured a little wooden rake called a rateau crepe that crepe-sellers use for spreading batter. It should have transformed my crepe-making ability, but I discovered the accuracy of a remark in Kate Whiteman's Brittany Gastronomique that the task "requires a flexible wrist and a light hand and is definitely not as easy as it looks".
An excellent metal spatula (the kind you use for "easy over" fried eggs) came from the New Orleans branch of the excellent American cookshop chain Williams-Sonoma. In Piedmont, north Italy, we bought a little terracotta bowl, which incorporates a nightlight to maintain the heat of the creamy garlic dip known as bagna cauda or hot bath. (Since we lack such items in the UK, Heston Blumenthal recently came up with a contradictory innovation called "cold bagna cauda" for Waitrose.)
Also in Piedmont, I procured a chestnut pan, like a frying pan full of holes. It works excellently for roasting chestnuts over a gas flame. You have to score the chestnuts first to prevent explosions but the ingenious Italians have a tool for that as well. A chestnut knife with a short, curved blade like a specialist scalpel cost €3.
This brings to mind an important point about bringing knives back from abroad. You and I may know that a certain type of knife is only good for scoring chestnuts, cutting cheese or paring oranges, but that cuts no ice with security staff at airports. Kitchen gadget fans should remember not to shove their new knives in their carry-on luggage. Embarrassingly, I speak from experience.
It might not sound much of an excuse to say that I'd completely forgotten that the oyster knife I bought in Ireland might have any other use than doing damage to bivalves, but the kindly security man at Cork Airport completely understood my absence of mind.
"Sure, ask for your luggage back and pop it in."
I managed to save that knife, which, ironically, proved useless for shucking purposes, but there is no rescuing the gadgets that got away.
Maybe my wife was right in dissuading me from the five-litre stainless steel olive oil vat (with spigot) that I spotted near Toulouse, though it would have been an impressive addition to the kitchen.
I still, however, suffer pangs at acceding to my wife's discouragement concerning the salamander I saw in a gift shop in Adge, Languedoc. Named after a mythical lizard that can live in fire, this is a fat iron disc attached to a long handle. You heat the business end in a fire or gas ring and then use the glowing red disc for caramelising crema Catalana or gratins. I know a blowtorch will do the same job but how drearily commonplace compared to the salamander.
Back home in London, I was chagrined to read an account in Mirabel Osler's The Elusive Truffle of searching for a salamander throughout France. And I'd declined one when it was presented to me on a plate! Next time, the salamander won't get away. Ms Osler eventually tracked one down in Dieppe, where it was sold under the unpoetic name feu carmeliser.
There's always another gadget to desire. Our wishlist includes Wusthof kitchen knives, a hinged game pie mould, a paella pan, an electric jam maker...
But there is one impressive affair - a maze of brass pipes and cylinders on a polished wood base - that made me gasp with desire when I saw it in an Italian ironmonger.
It has a few drawbacks, such as being against the law in the UK and the possibility of an explosion from the output, but a mini distillery for making grappa still may be the ultimate kitchen gizmo.
- INDEPENDENT