Due to reader confusion about Paul Jobin's lemon tart recipe (August 8), here it is again, with some clarifications.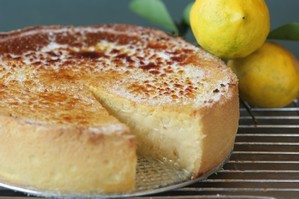 Makes 1 x 22cm springform tin
250g sweet pastry
12 size-7 eggs, room temperature
500g raw sugar
Juice of 6 lemons
Zest of 3 lemons
400ml cream
1/4 cup caster sugar
1 Pre-heat oven to 165C. Line benchtop with cling film, dust with flour, place pastry on it, dust with flour and cover with second sheet of film. Roll dough into 3mm-thick circle. Remove top sheet of cling film and invert with bottom sheet attached into tin.
2 With cling film on, cover with baking beans and bake blind for 15 mins. Remove cling film and beans, return to oven for 5 mins to cook the bottom.
3 Brush inside of tart base with lightly beaten egg white to seal any holes.
4 In a mixing bowl, cream the eggs and sugar. Whisk in lemon zest and juice.
5 Whisk in cream. Pour this filling onto the baked tart base and bake for an hour until almost set in centre.
6 Cool in tin for 30 mins. Cut into portions, dust with caster sugar and caramelise with a blowtorch.