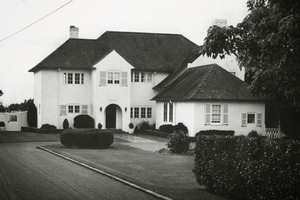 Whether it's homage or revenge, a lot of people will be blushing furiously.
Not that Peter Macky was driven to print by malice - at least none that he will ever admit to, but seldom have the main characters in an act of vandalism been so comprehensively exposed.
If the title of his book, Coolangatta, sounds suspiciously Australian, the tale it relates is as Auckland as year-round rain.
This is the story of a stately home, one that graced Remuera for 93 years. More popularly known locally as the "Lotto Home", the house you'd buy if your numbers came up, its name came from the Australian estate that ultimately paid for its construction.
All the same, in 2006, Coolangatta was torn down without warning in just 18 minutes, a few months after a secret vote by the Auckland City Council. Its owners were so determined to get the job done without protest or intervention they didn't even wait until all their furniture had been removed.
Macky, whose maternal great-grandparents built the home, heard the news from his mother. "I was horrified. Anybody who knew this house would have simply assumed it was protected and would always be part of Auckland. Given everything it had going for it in terms of construction and design it was something no one ever expected to happen ... they are now trying to market the site as apartments and as far as I know, nothing has sold so maybe there's some bad karma there."
The Parnell lawyer has gone to enormous lengths and spent $40,000 to explain what we have lost. Homes like this aren't historic just because of their relative age. For instance, he explains how Alexander Berry was, in part, gifted the original Coolangatta estate after his rescue mission following the 1809 massacre in Whangaroa Harbour of the crew and passengers of the Boyd. Then there is the Coutts (an anglicisation of Kuhtze) family who bought the home in 1954; it was Joseph Coutts who established what became the DB brewery in Otahuhu and later had one of the less memorable beers of the 90s named after him.
If Macky claims his work is a homage to its passing and all those who have lived within, the book can also be seen as a long-winded justification for the pointed kiss-off to Hamish Keith's introduction: "... now it is destroyed, we can only think, bastards." Even Auckland Mayor John Banks has referred to the demolition as "20 minutes of madness".
Of course that it happened is no surprise. If Auckland is good at anything it is chasing the dream of becoming a Super City while systematically expunging anything that might lend architectural weight to the ambition.
If Macky wants to achieve anything, it is to encourage further debate on our city's urban environment, even if it's mostly among the converted. It's not just the loss of heritage buildings that irks him, it's the absence of pride and ambition in the new. Why is it so hard for Auckland to build something worthy? What do the plague of ugly apartment buildings contribute to the city other than more shade?
A large chunk of the problem is the rubbing point between property rights and legacy. If the owners of Coolangatta can knock down an important house so they can replace it with a more profitable block of flats, why shouldn't a developer be entitled to build a cash-cow monstrosity on prime central city real estate? But then you might consider a city like Bath in England, where buyers scrabble to purchase old homes they know they can't touch. In essence, they aren't buying a home, they are bartering the price of becoming temporary caretakers before handing it on again.
By comparison, Macky points to sites like the slowly disintegrating St James Theatre - demolition through neglect has long been a favourite for developers - Building Five at Greenlane Hospital, and the Masonic Tavern in Devonport, a building who's fate should be known very soon. If they go, how much do you have faith that what will follow will be an improvement?
And it's not like we had much to start with. Most of the buildings we have retained, as well as most of those we've lost - including the arts and crafts-styled Coolangatta - were built during a short 25-year window that straddled 1900. For the most part we've built tat.
"My concern is the lack of vision," says Macky. "I don't think we've had any visionary mayors since the 19th century. We don't embrace new architecture, I mean look at the central library and Aotea Centre; I don't want to sound like Prince Charles, but there isn't a commentator in the world who wouldn't say they are horrible."
Then we get to the why of Coolangatta's demise. As mentioned, if the primary motive was financial, most observers thought any threat would be cancelled out by the home's clear merits. No chance, not when you factor in politics, in-fighting and an element that still irks Hamish Keith.
"The Coolangatta story stirred another uglier ingredient into the mix - the politics of envy - the decisions about the house were made not on its merits, but on its suburb. There wasn't the usual collusion here between greed and political ignorance but something far worse, that the rich should be punished by having their urban landscape blighted. I have never seen that before but it is now on the political agenda and we should be ashamed that it is."
The short story is that the council met in May 2006 to reject the proposal to list the house as a protected heritage item by a 11-6 margin. They then voted down a proposal by Coolangatta supporters to make the vote public. While various explanations were pulled out when the result was eventually leaked, the vote reflected the ongoing antagonism between the Action Hobson councillors (who supported retention) and the Citizens & Ratepayers block, as well as that between Mayor Dick Hubbard (who supported retention) and City Vision leader and deputy-mayor Bruce Hucker.
The effect was to end any chance of debating possible alternatives for the home and left it's future in the hands of owner Margaret Coutts and her solicitor/ son-in-law, David Boswell.
"What can private citizens do when something like this happens?" says Macky. "So, I decided to write a book about it. What else could I do? Every time a disaster like this happens there's a little press, a short debate and nothing changes. I wanted to do something to try to change that process."
There are signs that such change may be a-coming. If there has been any shift in attitude following losses such as Coolangatta, it is the move toward refurbishment rather than obliteration or, horrors, facadism.
Upcoming examples are the Imperial and Everybody's Theatres on Queen St. Hands up who even knew they existed? As two of our earliest cinemas, they were built between 1886 and 1911 and have somehow escaped molestation for the past 50-odd years. Along with the rest of the four-storey Imperial Building, they are now owned by Phillimore Properties, which anticipates launching a nine-month rebuild in September.
No, they're not going to be theatres again, they are likely to serve as semi-public spaces such as restaurants while retaining the original vaulted ceilings, wood flooring, brickwork and exposed support structure. As Keith says, there is no conflict between the economics of a building project and good design, heritage or progress.
"In fact, they could be natural partners ... the Logan Campbell Kindergarten (in Victoria Park) is a metaphor for that. Instead of demolishing a heritage building to build a plant room for a motorway tunnel, this building can do the one and continue to be the other. Simple really, so why didn't anyone think of that before?"
- CANVAS