Ten years ago, women only bought clothes they had tried on. Today, millions get their fashion fix on Net-a-porter, the pioneering online store which turns 10 this month. We ask London-based founder Natalie Massenet why we're in love with online shopping.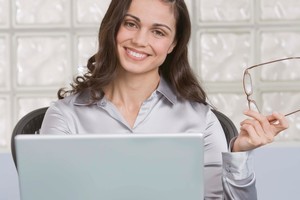 The box is what gets them. The sturdy black box, wrapped in grosgrain ribbon, which lands on 1000 Net-a-porter customers' doormats daily, contains a runway-fresh fashion piece, and crunches expensively with fine pink tissue paper. Every purchase comes dressed as a gift - that's one of the secrets of the success of Net-a-porter, the luxury fashion site currently valued at £350 million ($746.4 million).
Ten years ago, founder Natalie Massenet picked up an "Are you an entrepreneur?" leaflet in a bank. She was 34 back then, daughter of an American journalist and English Chanel model, wife of French investment banker Arnaud, soon-to-be-mother of two small daughters, a stylist, a fashion writer for Tatler, an ex-student of literature, ex-film-maker, ex-assistant to director John Hughes. If she wasn't yet an entrepreneur, she was certainly at least a bit of everything else.
Her instincts have proved frighteningly good. Before launching Net-a-porter - which turned 10 this month - she had plans for a chain of coffee shops, but listened to business experts who told her there was no money in it.
Starbucks hit the high streets months later.
"Natalie is so talented," says Christopher Bailey, chief creative officer of Burberry. "She has an incredible vision, which is proven in the way she has built her business online and been able to stay one step ahead of the competition. She's built a brand and a great team, and you can feel her amazing energy and personality in everything they do."
Massenet's career in fashion began at Women's Wear Daily, where she covered the Oscars and nurtured her ambition of one day becoming a magazine editor. Years later, at Net-a-porter, she realised that "I hadn't walked away from being editor-in-chief of a magazine - I'd just created a magazine for the 21st century instead, a hybrid between a store and a magazine that was delivered digitally".
Vogue has named Massenet one of the world's most glamorous women, and last year she was made an MBE.
In person she's groomed and serene in monochrome cloth, handsome rather than beautiful, with hair that tosses with practised glamour. She cuts it herself, she told American Vogue's Sarah Mower, at her desk. This despite being a multi-millionaire - she sold her share of the company for an estimated £50 million in April but "rolled back in" the day the news broke, investing £15 million of her windfall back into the business. She remains executive chairman, a role that sees her managing more than 200 staff under triple-height windows, with an energy only matched by the speed at which Net-a-porter's screens leap from sale to sale. The screens are scattered among the long white desks, and each shows a map of the world. Every time somebody makes a purchase (sales spike when it rains), a shopping bag pops up beside their location, showing what they bought and how much they spent, alongside a rolling tally of the day's takings.
It was while frantically shopping online for a shoot with Isabella Blow that Massenet was struck by the potential for a high-fashion e-tail site.
"I called Arnaud and I said: 'Honey, I'm starting a business!' And I think he said something like: 'Great. What's for dinner?"' Ten years ago the dotcom bubble was bursting: 2000 was a difficult time to start an online business. Her advisers promised failure.
Despite their threats, Massenet found initial backers in friends including Anya Hindmarch and Jimmy Choo founder Tamara Mellon, and became profitable in 2004, before emerging as one of the leading success stories of the dotcom boom.
The editor of Harper's Bazaar, Lucy Yeomans, used to work in the fashion cupboard with Massenet at Tatler. Today she bubbles over with respect for her. "Natalie does everything with such style and wit," she says, "and everywhere you can feel her own love of shopping. She understands the importance of process."
Yeomans buys something on the site every fortnight, usually in the back of a car or while browsing through the weekend papers - "Because time is so precious. And I hate changing rooms." Jo Elvin, editor of Glamour magazine, is also a fan of the brand and its founder. "The main thing Natalie did right was trust her gut," she says. "I admire her strength in sticking to her guns when everyone told her Net-a-porter would never catch on. I also think she was pitch perfect in the way the site has always looked and the quality of the merchandise, but also the service. Net-a-porter has set high standards in service which those in its wake are now forced to match."
When the site went live, Massenet's 15 staff were working from a small flat in Chelsea, west London. The bedrooms were stacked with stock. The bath was full of their famous black boxes.
"They were the same luxury quality boxes we have today," Massenet recalls, "except we didn't order as many then ... We were really held back by how much we could buy, because we had no money to buy product."
Instead of today's humming screens alerting them to purchases, when they made a sale back then the staff would shout: "Kerching!".
The new offices of Net-a-porter are on the top floor of London's Westfield Centre. Under glass chandeliers they float whitely over Europe's largest mall, a monument to old-fashioned walk-in-and-browse shopping. Ten years ago, at the birth of Net-a-porter and other sites like Asos.com, customers weren't interested in buying a piece of clothing they hadn't tried on, let alone one they hadn't even stroked - what you bought was limited by the high street where you lived. In 2000 the only people more wary of online shopping than consumers were retailers.
"In the first four years," Massenet says, "there was a lot of desperate hand-wringing, tears and pleading with brands ... You'd go through a pitch and say: 'And then you can click and buy it from pictures and it's delivered anywhere in the world'. And they'd listen and they'd nod and then afterwards they'd say: 'Just tell me one more thing: where is your store?"'
Now brands are clamouring to be considered - Stella McCartney, Yves Saint Laurent, Alexander Wang and RM by Roland Mouret are among the designers who have created capsule collections for the site. Being accepted by Net-a-porter is a big deal - being stocked by Massenet not only guarantees new customers but its credibility gives a fashion brand value.
Grazia's associate fashion director Siobhan Mallen, who visits the site every day, believes the secret to Net-a-porter's success is its edit. "They have the best choice of the best labels in the world. The fact they deliver to your desk is an added bonus," she says.
And it's not just a shop - as a digital magazine, it's also a tool.
"I'm also starting to research my autumn/winter wardrobe," Mallen adds, "but I can't quite bring myself to buy a coat just yet."
This is how we shop now. Walk around any office and you will see women's computers fizzing with shoes and summer dresses. We use our screens for window shopping. We scroll quickly through a season's worth of evening wear in a minimised window below our inbox, we click to enlarge, we add it to a basket, and then it arrives in a fanfare of signatures.
Hurried trips to the mailroom reap the rewards of slim cardboard boxes and quick changes in the disabled loos. We often send it back, of course, but that's part of the fun. Like internet dating, half the thrill is anticipation.
A friend admits to spending far more online than she'd dare to in a shop, because clicking feels less real than handing over cold cash. The guilt is minimised online, though for those properly mired-in conscience Net-a-porter briefly offered the option of your order arriving in an unbranded paper bag. When this friend buys something online her week starts with a bounce of excitement as the boxed delivery approaches. When she doesn't, the week is duller. She's forced to find something else to look forward to.
"Glamour readers love internet fashion," says Elvin. "They love that this is a whole new avenue. It means they can discover shops they never would have if they were limited only to where they could walk or drive to."
"The internet is just one more way for our readers to indulge their fashion obsession," adds Mallen. "They have incredibly hectic lives, juggling careers, social lives and often families, so internet shopping offers them a way of saving time."
E-tail sites continue to grow.
In June Asos reported £20.3 million profit on sales of £223 million, a figure that's expected to rise by 60 per cent this year. If Net-a-porter is Vogue, Asos, which also celebrates its 10th anniversary this year, is closer to Grazia - while it stocks designers including Vivienne Westwood and Acne, its current bestsellers are high street-priced maxi dresses. In 2009, the year their sales doubled, they dressed 2.2 million 16- to 34-year-olds.
"It's easy to see why people like Asos," says Carol Ratcliffe, a senior retail analyst. "They invest heavily in making sure the products look good and that the latest fashions are available on the site very quickly - the online model can be far more flexible than store-based retailers in bringing in large numbers of new ranges each week. Importantly, the site is good fun - you can go there for entertainment and fashion inspiration even if you don't plan to buy something right now."
The average order value on Net-a-porter is £500, with pieces shipping the same day in Net-a-porter vans driven by a fleet of men hired in part for their manners. However £500 is dust for the VIP customers, the women who account for 1 per cent of Net-a-porter's business but 20 per cent of sales, and who will be invited, soon, to meet designers in the glowing Westfield offices. Of Net-a-porter's top spenders, 19 per cent are women running their own businesses, like Massenet herself, whose entrepreneurial advice, as passed on to Mower, is: "Choose the right husband and nanny, and then don't worry about a social life. Everything but family and work has to go."
A year ago Massenet launched her second e-tail site, TheOutnet, selling stock from previous collections at a discount.
"We wanted to create a whole new brand," she said. Last month they did it again, announcing the launch of the first global menswear retail site, MrPorter, in January 2011. "We have a ready-made customer base for our men's business," she says. "[All] Net-a-porter customers have a man in their lives in some capacity and 59 per cent are married or living with a partner."
Elsewhere, Asos is now launching in America and starting a new business where customers can resell their old clothes. This year eBay launched its Fashion Outlet site, offering discounted high street labels. My-wardrobe, the site that offers "accessible luxury" in the glossy slot between Net-a-porter and Asos, is on track to report more than 100 per cent growth when it closes its financial year - it launched its menswear site in January.
I think online fashion is only going to grow," says Elvin. "The days of mistrust of shopping on the internet are pretty much over, particularly for time-poor women like myself."
But does the success of sites such as Net-a-porter signal the end of the high street? If websites can work quickly enough to adapt to the weather, how can traditional stores ever hope to keep up?
"There'll always be a place for good shops because of the social aspects of shopping," says Yeomans. But again, like all of us, she comes back to the box.
"Net-a-porter has all the same values as an amazing boutique, and with fantastic service. Every time those black boxes turn up at the door I feel special. Every time I see them I get a little kick."
- THE OBSERVER