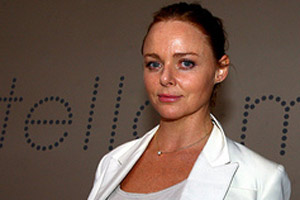 The success of the British team at the 2012 Olympics may not be guaranteed, but thanks to Stella McCartney their fashion credibility is.
An announcement today will confirm that the designer will create the kit for the British Olympic team, working in conjunction with the sportswear label Adidas, which has appointed her creative director of its Team GB ranges.
Adidas has designed and provided sportswear for the British Olympic team since 1984 but this is the first time in the history of the Olympics that a prestigious fashion designer has worked with a sports brand to provide clothes for the national Olympic and Paralympic teams while they are actually competing.
McCartney said: "As a British fashion designer it is an amazing, once-in-a-lifetime opportunity."
Although McCartney is primarily associated with her high-end, ready-to-wear collection, which she shows in Paris, the appointment is likely to be considered an inspired decision.
McCartney already designs a range of on-trend sportswear for Adidas and has been instrumental in transforming active clothing into something that can be fashionable as well as functional.
Her activewear has also tapped into the "yummy mummy" penchant for specific clothes to wear for yoga and pilates classes, or even on the school run.
McCartney, who was the head designer at Chloe before leaving to set up her own label in 2001, has worked with British Olympic team members before. For the launch of her spring 2009 collection at London Fashion Week, she transformed a venue into "Stella's Gym". Her collection was modelled by Olympic athletes, with the British Olympic and World Champion track cyclist Victoria Pendleton in attendance.
Pendleton said of the appointment: "I'm a massive fan of Stella McCartney and with London hosting the Olympic Games it is really important as the host nation to set the standards."
McCartney also dressed the Danish tennis player Caroline Wozniacki for the last Wimbledon tournament and said at the time that it was important to "marry the two worlds, fashion and sport, which is what the [Adidas] collaboration is all about".
The two worlds have been moving closer since the middle of the 2000s, with large sportswear companies hiring big-name designers to create ranges for them.
Alexander McQueen designed a range for Puma and Hussein Chalayan is their creative director. Yohji Yamamoto creates the Y-3 range for Adidas, and Commes Des GarAons founder Rei Kawakubo designs a range for Speedo.
Sports stars are also paid handsomely to endorse fashion products, with David Beckham and Cristiano Ronaldo modelling for Armani.
Other sports events have also hired high end brands to create official clothing; Ralph Lauren is the outfitter for Wimbledon, and created the American team's clothes for the opening ceremony of the last Winter Olympics.
Perhaps the ultimate seal of approval for sportswear comes from US Vogue editor Anna Wintour, however, who is a fierce tennis fan and came to Wimbledon this year.
She is a friend of Roger Federer and the pair have attended various fashion events together.
- INDEPENDENT