Zambesi menswear designer Dayne Johnston takes us inside the fast-paced world of working the Paris fashion collections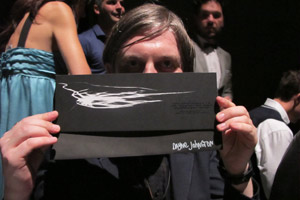 Tuesday
Arrive in Paris early in the afternoon for men's fashion week. I have been travelling to Paris to buy clothing for the Zambesi stores for around four years now but this season for the first time, Zambesi has a showroom devoted to our menswear. Our London agent, Robinson Pfeffer, has set up a small space in the Le Marais area - a neighbourhood in which I always stay because it's central and there's always a lot going on, with people dining outside, lots of cafes and bars. Plus, a variety of fashion labels, like Dries van Noten and Acne jeans, also have showrooms there. So this season I will be going to shows to look for clothes we can sell in our own stores, as well as assisting our agency in any way I can.
I arrive at the hotel, and then, jetlagged as anything, make the foolish decision to drag all the Zambesi clothes to the showroom on foot. I am wheeling a huge suitcase and carrying a large box and it's very hot today. All I can say, is that it looked closer on the map! Next time I'll be catching a taxi.
Finally get there and it's exciting to hear that the showroom has 34 appointments organised with buyers, including representatives of well-known stores like Barney's, Collette and Saks. When you bring clothes from New Zealand to sell internationally, it is always hard to know how they will be received. We usually edit our collection down and tend to bring the pieces that have been most popular. We also shot a look book- a catalogue of every piece we are selling - especially for this showroom.
After we set up the clothing and the posters, I go for a drink with our agents - Kyle Robinson and Andrea Pfeffer - at a bar nearby. It's very French, everyone is sitting outside and it's summer in Paris. Despite the jetlag and the heat, it's amazing to be here again.
Wednesday
The next day I go through the collection with our agents. As a sales team, they need to be familiar with the fabric and the cuts, the story and inspirations behind the collection. They're pretty happy about this - most of the time, they just unpack big boxes of clothes and often don't hear the back story.
Meet up with fellow New Zealander-in-Paris, Isaac Hindin Miller, who is blogging on the menswear shows in Paris for the New Zealand Herald. We have lunch at a restaurant in Le Marais - Cafe les Philosophes, a place that Zambesi owner Elisabeth Findlay has taken me to in the past, that serves traditional French cuisine. The wait staff refuse to speak English to us and the menu is in French but we enlist the aid of the slightly mad American woman sitting at the next table and we are eventually fed.
Next, a quick trip to Collette, a concept department store that has been described as "possibly the most stylish store in all of Paris". Then we head off to a skanky bar filled with Australians to watch the New Zealand versus Italy football game. We meet New Zealand model Michael Whittaker there - Michael has modelled for us before and appears in the campaign for Zambesi's next summer collection. He's working abroad as a model and has worked for some pretty big names, including Dior, Balenciaga and Raf Simons.
Then... disaster! I walk into the packed bar only to realise pretty quickly that I have been pick-pocketed. My wallet and passport both gone. I have no identification and no money, not even enough to catch the Metro back to the hotel. After a minor meltdown, I ring the credit card company to cancel cards and then spend the rest of the evening trying to find a police station. That takes until after midnight. Before going to bed, exhausted and somewhat emotional, the office emails me to say they are sending a money transfer. Bless everyone at Zambesi HQ in Auckland, such a comforting thought!
Thursday
No money to buy dinner, breakfast or train tickets to get me to the Rick Owens show. I wait for a friend to come to the hotel to lend me €100.
The Rick Owens show is held in a huge place, a bit like a sports stadium. It's an interesting building with bright green grass growing up the sides. I've been to shows here before because, basically, with so many designers and so many shows in Paris, there are only so many interesting, and relatively central, venues. The place is very dark, you can hardly find your seat. The male models come out in groups, rather than in single file, and the place is filled with dry ice and smoke. Owens' clothes have a sort of late 80s-early 90s feeling, lots of sheer and draped T-shirts and leather.
After this, I attend a show by Korean label Juun J but to be honest, the clothes dod not really win me over. After, I tag along with a friend to the Louis Vuitton show. I am really interested to witness a show like this, a real luxury brand that is so different to what I am used to seeing or buying for our stores.
After the show finishes, we can see the Louis Vuitton designer Marc Jacobs out on the right side of the stage, apparently just casually chatting to someone. And everyone sort of sits there waiting for him to come out. He doesn't actually come out until about a minute later, when people are starting to leave. Quite bizarre.
There are probably up to 700 people there and definitely some celebrities. But I am useless at that kind of thing. I do see the editor of French Vogue, Corrine Roitfeld, everywhere though. She is so thin as to be almost skeletal.
Back to the hotel for a quick cat nap - still jetlagged.
Then on to the Dries van Noten show. This takes place at an outdoor venue by the River Seine that reminds me of sitting under a bridge. All the seats are on one side and the models walk alongside the river. I've always loved Dries van Noten and this is the first time I have ever been able to attend a show. It feels quite surreal but it is very beautiful.
Most of today I have also been trying to organise a photo shoot with a New Zealand photographer, Rebecca Thomas, who is now based in London and who has worked for the likes of iD, Tank and Nylon magazines. She is in Paris working on several other jobs and keen to shoot Zambesi menswear on Michael, a submission for iD magazine. We go to a bar, La Perle, to wait for him - he was trapped in a fitting for the Raf Simons show. La Perle is always packed, you have to wait to get a seat outside and it's a bit like the bar of choice for the cool indie kids of Paris. I always recognise hipster shop assistants in here. By the time Michael manages to get to us, we have been waiting several hours and Rebecca has decided she likes the bar so much she wants to shoot there. So Michael gets changed in an alleyway and she shoots him in the bar and even in the toilets. He ends up looking quite vampire-ish, which I really like.
Rebecca leaves and Michael and I sit in the bar; he talks about the difficulties of making a career as a male model. For boys, even if you are doing well, you never get paid as much as your female counterparts and it can be a long hard road to making decent money. Michael is getting some great work for labels like Dior Homme and Raf Simons but he is still struggling financially. The standard of models here in Paris is incredible.
Friday
Return clothes from the photo shoot and then visit a showroom set up to promote British designers. I meet British menswear designer Tim Soar and we talk about showing in Paris. It is interesting to get his perspective.
Finally manage to access the money that work had sent from New Zealand. The French people at the post office do not speak English. Needless to say, this is tricky.
Another big day for shows. Today I am going to see collections by Walter van Beirendonck, Kris Van Asche, Cerutti and Comme des Garcons. We don't buy from most of these labels but it is always interesting to see what other people do, and how they show.
The van Beirendonck show is crazy. So many crazy colours and almost completely unwearable. His male models are a mixture of oversized, hairy guys and the usual male model types. This designer often has larger men on the runway - but striking a balance is unusual. Maybe he's planning on going on a diet?
I am not so fond of the Van Asche show and the Cerutti show is terrible in logistical terms.
The runway is very, very long and the models do not seem to know where to stop - it's usually at the end of the runway but it seems as though nobody has told them where that is. A few of them also slip around a bit - I'm guessing the shoes are at fault.
Comme des Garcons is my favourite by far, held in a pretty broken down, deconstructed sort of venue that does not look like it would have been expensive. It's usually very underground and very hard to get an invitation as they only show to around 300 people. It's funny, in New Zealand, we might get around 800 people to a Zambesi show. But here, even the Vuitton show, which is the biggest show I see, only has about 500 invitees. This is because in Paris it is really only about doing business; the labels only show to buyers and to media whereas in New Zealand customers and sponsors are also invited. At the Comme show they serve us champagne in plastic cups which is a nice gesture. But mostly, there are no drinks, certainly no goodie bags or free gifts and you're lucky to find a press release on your seat. You come, you watch the show and then you leave immediately.
Saturday
At 10am I go to the Maison Martin Margiela presentation. They never do a runway show for the menswear and usually this presentation is about getting the "mood" of the collection across. It is mainly for the press but buyers, like me, can also attend. This time the presentation is a film. Models have been filmed around various locations in Paris, standing in front of a white sheet, then the models themselves walk out and stand in front of the screen. I love it. Margiela always works with a low-fi aesthetic - the models come from street casting as well and the guys will often have beards or tattoos, not your average model. Everything is so simple yet so innovative.
Then I have an appointment to see the Rick Owens collection, which we buy for our Zambesi stores. This label is based in an amazing old Parisian building that has had its interiors ripped out. It's filled with concrete tables and it's very industrial looking. Sometimes you see the designer there too - he lives upstairs. They have a chef working there as well and they always serve you something to eat. I have had fresh salmon and salad before but this time it is fruit pudding and ice cream.
In the evening I see two more shows. Damir Dorma, from Belgium, is in a courtyard and they have a maze for the runway so everyone is front row. It is interesting but the label doesn't always translate well to the New Zealand market.
The Raf Simons show is next and that is amazing, held in the foyer of a beautiful building with a glass dome for a ceiling that made it feel very grand. The label is celebrating its 15th anniversary and the clothes reference a lot of the designer's past work but are also very contemporary - they have these almost pornographic prints and things like skirts over pants for men - so it's targeting a very select market. Despite that I look forward to seeing some of these pieces in our new menswear store in Newmarket. I always try to keep the New Zealand customer in mind but at Zambesi we also like to challenge and inspire.
Sunday
On Sunday I have an appointment at the headquarters of Maison Martin Margiela. They are based in an old school building and when they moved in they left a lot of the school like it was, so there are a lot of old blackboards and school equipment. In the reception area there are these white-washed supermarket checkout counters, a chandelier covered in white muslin and a big sign that says "welcome". When you go into the showroom, you will have one person who is devoted to your needs but the showroom will be busy with lots of other buyers too: a hive of activity.
Zambesi has been buying Margiela for around 15 years now and I feel comfortable there. Often I'll see Gregory Brooks there too - he is a New Zealander who used to work at NOM*D in Dunedin but now works for Margiela as a men's designer.
My final job in Paris this week is to have a debrief with our agents. They give me a list of all the buyers who came in. These have been of a very high calibre and they've had some huge interest. Everyone has commented on the great quality of our clothes - and these people have seen hundreds of collections so that's really great to know.
I really enjoy hearing feedback of any kind actually, because it makes you want to work harder. It challenges you - showing clothing on a world stage just motivates us to be better every time.