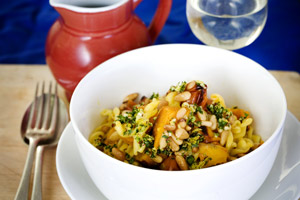 Recently I've been craving pasta - rich and warming chicken lasagne to be precise. So I thought it was time to share my new favourite pasta dishes.
Though lasagne does take a bit of time to prepare, the other two dishes can be put together in a jiffy to produce bowls full of goodness and flavour.
When it comes to choosing which pasta to use we're spoilt for choice - from spaghetti to lasagne, fusilli to conchiglie. Don't be afraid to experiment. Today we have three different varieties including a wheat and gluten-free offering.
Seeing as the best quality pasta relies on strong wheat flour with a high gluten content, I was initially sceptical, but this spiral pasta made from maize has good flavour and a nice chewiness to it. Combined with juicy little cherry tomatoes and roasted pumpkin, pinenuts and a sprinkling of gremolata, you have a very nutritional, tasty salad to take to work or a quick dinner when you walk in the door at the end of the day.
I have used dried pasta for the lasagne, but not just any old variety. The Montebello range is well worth trying out: it uses organic durum wheat grown on small family farms producing true artisan pasta dried in traditional drying rooms. It's delicious and available from gourmet food stores such as Sabato and Farro among others. Many think fresh pasta is superior to dried, but it all comes down to the quality of the ingredients used.
Fresh does cook more quickly though and is a bonus with spaghetti because the sauce takes about the same amount of time to create, so you can have the recipe completed in 10 minutes. A warmed bowl full of garlicky prawns and delicate spaghetti bound in a wine, lemon and cream sauce, finished off with a little basil is a satisfying dish. Don't forget to pair it with some crusty bread to mop up the remains of the luscious sauce.
Chef's Tips
Fresh pasta can be kept for three weeks in the fridge if well-sealed, while dried pasta will keep for up to a year. Remember to use plenty of salt in the water when cooking, and to reheat cooked pasta plunge into boiling water for 30 seconds, then drain.