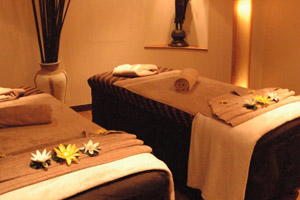 A few years back, pre-recession, the general manager of an international hotel told me building a spa was a licence to print money. Now it seems every street corner has a "spa", and at the top end they cost a fortune to set up - and often to visit - with customers enjoying ever more elaborate facilities.
Economic times are tougher and some spas have gone under, but overall the global industry continues to grow. So what's behind our desire to be pampered, and how do you choose a destination that delivers?
"It's no longer about fit-outs, it's about the treatments being mind-blowing," maintains Ina Bajaj, director of East Day Spa Corporation, which runs top spas in Auckland, Wellington, Melbourne and Bali, and is eyeing up Queenstown. Anyone who has had an average massage or facial in a flash facility will doubtless agree.
Bajaj attended the Global Spa Summit in Turkey in May and said there was agreement spa clients were becoming much more discerning. "A few years ago you could fool the client, this is Swedish massage, this is whatever, you can't now ...
"From the minute you walk in the door it should be all about indulging the senses, all five."
The Langham Hotel's general manager in Auckland, Jeffrey van Vorsselen, oversaw the opening of its Chuan Spa, pool and gym facilities just over a year ago, on which nearly $5 million was spent. He was also behind the launch of the first Chuan in Hong Kong and says spa and five-star hotels are inextricably linked. "It's critical now. I'd be very surprised to see any luxury hotel anywhere in the world that doesn't have a spa."
People had experienced top spas overseas and wanted the same here. "We found a great pent-up demand."
Initially, nearly 80 per cent of Chuan customers were from Auckland, now they make up a still healthy 50 per cent. While the percentage is down, the numbers aren't. "We've grown the pie," says van Vorsselen, who adds that the spa makes a "good profit", exceeding first-year expectations.
Rotorua's Polynesian Spa is equally buoyant after getting a Top 10 gong from Conde Nast Traveller magazine. It has an expansion opening in a month to cater for more couple therapies and runs the country's best stocked spa retail outlet.
"We think it's because of the recession, not in spite of, that demand has been so high," says managing director Martin Lobb.
"Stressed people are seeking a retreat."
That's a trend noted across the industry, and though some businesses report profits are down or spending is shifting - more on appearance maintenance, less on all-day lolling about - others say it's the overseas trips not the smaller indulgences that New Zealanders are cutting back on.
"It's also a redefinition of luxury," says Bajaj. Luxury didn't disappear with the recession, it morphed. "Luxury is time."
Moving spas "from escapism to daily-ism" - market-speak that translates to wants versus needs, the latter being more easily justified - is a strategy some in the industry advocate. At East at SkyCity's Grand Hotel, Bajaj is responding with a host of new 15-minute lunchtime treatments.
A key theme at the global summit was the business opportunity of better aligning spas with the modern-day preoccupation with "wellness" rather than with conspicuous consumption. This handily extends market reach, yet also reinforces the historic origins of spa: "taking the waters" in Europe (and here for well over a century) and the holistic beliefs stretching back millennia in Eastern cultures to connect mind, body and soul.
From Antibes to Auckland, it's a spa-studded world. But even getting an agreed definition of spa itself is no easy matter.
In Europe, water treatments are often to the fore, reflecting spa's origins from bathing in hot pools, dating back to Roman, Greek and even Babylonian times.
In America spas centre on facials and massage, often in combination with holiday leisure pursuits. In parts of the East there is a long tradition of enjoying massage, with men socialising at public pools and women at beauty parlours.
Eastern-style aesthetics encouraging calm and contemplation, combined with attentive, respectful service underpin much of what we've come to consider essential to modern spas, and it's no surprise that some of the world's best examples are found in Thailand and Bali.
Resort spas also thrive in the Maldives, the Caribbean, Morocco, old Europe, the glitzier Arab states and grand hotels worldwide. New Zealand rates a mention too, with our thermal resorts and scenery in particular offering something a little special.
Modern spas happily combine ideas from many cultures. Expect beautifully appointed facilities where you'll get your own robe and slippers, attendants bringing tea and fruit, and private rooms in which to revive and retreat. There may be infinity pools, steam and sauna rooms and even restaurants serving spa cuisine.
Hotels often build their own spas, or contract out the business, but luxury skincare lines such as La Prairie are courted to add cachet. La Prairie handpicks the hosts of its Art of Beauty pampering, which it calls a trip to Spa-ridise. Its 45 spas in 20 countries focus on skin rejuvenation as well as relaxation and indulgence.
They're found in spots such as the Seychelles, the Cayman Islands, Antibes and Positano; in French chateaux, German castles and five-star hotels including Claridges in London, the Ritz-Carlton in New York and Burj Al Arab in Dubai. The company says its customer is looking for exclusivity.
Facts and figures on the spa industry are as fluid as a masseuse's fingers. Some claim it's three times the size of the cruise industry.
A core figure of US$374 billion (NZ$541 billion) was estimated in research findings by American company SRI International presented to the Global Spa Summit. Not to be sniffed at, but considerably less than the beauty/anti-ageing industry, though the figure excludes spending on spa-related tourism and hospitality.
The same study found Australia ranks 15th on the list of the world's top 20 nations for spa, making it ripe t for a spa tourism push from us. That's what new marketing group Best Spas of New Zealand is doing - courting travel media there to write up its member resorts here.
Men are just as much a target as women, with spas being promoted as a reward for an action adventure activity, round of golf or tough day at the office, or a sensuous wind-down with a partner.
Urban hotel spas patronised by business travellers report between 25 to 40 per cent of their custom comes from males.
"A spa treatment is just a really nice way to finish the day," says Best Spas co-ordinator Philippa King.
The group hopes for spin-off interest from Rugby World Cup visitors next year and the return of more long-haul visitors, but for now Australians and New Zealanders are its main target.
King says Best Spas wants to assure all guests of a good experience. Its members (Chuan Spa, Polynesian, Millbrook Resort near Queenstown and Hanmer Springs Thermal Resort, in Canterbury) have quality standards and are working with Qualmark on membership criteria, which includes spas having at least four treatment rooms and a separate relaxation area.
This effectively rules out most "day spas" and many smaller hotel properties, however good their services. And there goes the vast bulk of the 700-plus businesses the organisation says are using "spa" in their name - everything from "nail spas" to mall operators.
Worldwide it's also a guestimate how many true spas there are and how best to define them, but the SRI study says there are maybe 70,000, employing an estimated million-plus people. King says the New Zealand industry would benefit from research.
An illustration of the sort of business that can be turned over is the 25,000 treatments a year she says the country's busiest spa performs. That's the spa at Hanmer Springs, where most guests come from Canterbury or Australia to a newly extended multimillion-dollar complex, with more than 35 staff offering 30-plus treatments adjoining long-established hot pools.
East Day Spa agrees that standards are an industry issue, but is pursuing its own quality control with staff training and rotating staff across its properties, bringing Balinese and Indian workers to Auckland.
Bajaj is also working with master chef Peter Gordon and the SkyCity Grand's main restaurant on spa cuisine, inspired by some of the properties she has seen overseas.
While in Turkey, she went to Hotel Les Ottomans, "the most beautiful spa I've ever visited, but within a hotel that charges €1800 [$3270] a night." But she's been to lavish waterfall-filled properties where she was left unimpressed. "They spend all that money and then forget about the treatments."
With a decent spa costing at least $2 million to set up, and some Vegas-style ones lashing out 10 times that amount, profit must be earned.
Bajaj believes there is a need to fine tune service, with treatments here generally good. More should be made of New Zealand's unique natural resources.
There's quite a lot of interest around the cultural aspects of spa," says King.
That's good news for a town like Rotorua, whether visitors want the full indigenous experience of miri miri massage and a soak in a mud bath - "mud really sells" - or an extra dimension with treatments being, as Bajaj says "spa-ified" so we get moisturising manuka honey body wraps or kiwifruit exfoliating facials.
New Zealand customers are drawn to international beauty lines, but visitors like to a taste of Kiwi, which is why canny spas pretty much all incorporate such ingredients. Polynesian Spa and Hanmer Springs even have their own product lines, as does the country's only Maori spa, Wai Ora, which taps directly into the mud flow at Hell's Gate, near Rotorua.
Chuan, founded on Oriental/Chinese principles has just launched Aotearoa Aura, a body treatment using circular massage motions "similar to that of our native koru frond" and incorporating Hawkes Bay riverstone, greenstone, kelp and manuka honey".
"It's about inspiring our overseas guests to enjoy a unique experience," says van Vorsselen.
For most tourists this is enough, but some want a more traditional touch. Wai Ora Group's chief executive Bryan Hughes sought the blessing of his tribal elders for his spa's treatments and he wants to work with other iwi to draw up a code for indigenous spas.
But then, as another illustration of what an international game spas are, some of his miri miri therapists are Thai.
Spas seek to differentiate themselves from other beauty service providers by talking about how they impart the experience with an extra dimension. That means, properly trained, a good therapist should be attuned to delivering whatever the treatment and philosophy is in a way that is attuned to the client's needs.
From an initial welcome, through the treatment phase, to a relaxing preparation to re-enter the world at large, van Vorsselen describes the process as: "A whole journey from when you arrive to when you leave."
Spa Stats
* The top five spa countries are the United States, Japan, Germany, France and Italy.
* European countries combined generate 39 per of the world's spa revenue. North America adds up to 29 per cent.
* Swiss spas make the most money and Austria has the most spas per capita - one for every 8000 people.
* Spa investment is heaviest in Europe and Asia/Pacific.
Source: SRI International report to the Global Spa Summit 2010