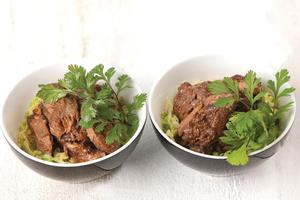 Serves 4
1 onion
2 cloves garlic
4 hogget shoulder chops
1 cinnamon stick
1 tbsp grated root ginger
1/4 cup soy sauce
2 tbsp white vinegar
1/4 cup beef stock
2 tbsp honey
bok choy, choy sum, spinach or shredded cabbage
1 Peel onion and chop finely. Crush, peel and finely chop garlic. Place onion and garlic in the base of the slow cooker.
2 Trim fat from chops and discard. Place chops on top of onion with cinnamon stick. Mix ginger, soy sauce, vinegar, stock and honey together. Pour over chops. Cover and cook on low for eight hours.
3 Fifteen minutes before serving, turn the slow cooker to high. Remove as much fat as possible from the surface of the cooking liquid. Trim the bok choy down the middle lengthwise. Place green vegetables in the slow cooker, pressing into the cooking liquid. Cover and cook for 10 minutes.
4 Serve the chops on top of the green vegetables with the cooking liquid spooned over.
Reprinted from Robyn Martin's Easy Budget Recipes for Crockpots and Slowcookers, with photos by James Ensing Trussell (Chanel & Stylus $34.99).