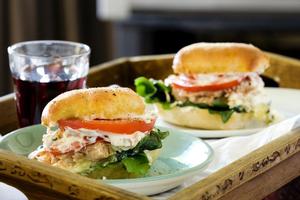 Serves 2
1 Tbs good quality mayonnaise
1/2 cup tinned tuna
1 tsp Dijon mustard
1 tsp tarragon, finely chopped
2 tsp parsley, finely chopped
3 tsp spring onion, finely chopped
Salt and pepper
Ciabatta rolls
Butter
Spinach leaves
Slices of tomato
Slices of cheddar
1 In a bowl, mix together the mayonnaise, tuna, mustard, tarragon, parsley and spring onion. Season.
2 Preheat oven to 200C. Slice the rolls and spread with butter. Fill the rolls generously with spinach leaves, slices of tomato, the tuna mixture and cheese.
3 Place on a tray and bake for 10-15 minutes or until the cheese has melted.