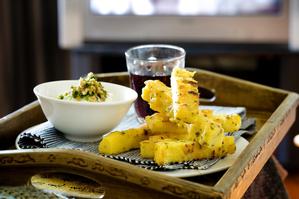 Serves 2
1 litre water
250g polenta
2 tsp salt
1/4 cup parmesan, grated
1 Tbs butter
2 Tsp rosemary, finely chopped
Olive oil for frying
1 cup good quality mayonnaise
1 Tbs green olives, finely chopped
1 tsp lemon zest, finely grated
2 tsp lemon juice
Black pepper
1. Bring the water to a boil then pour in the polenta in a steady stream while whisking. Whisk consistently for two minutes until the polenta is thick and lump-free.
2. Remove from the heat, stir in the salt, parmesan, butter and rosemary. Pour on to a flat tray, make the sides even, and refrigerate for an hour or until set.
3. Pour in enough olive oil to cover the bottom of the frypan. Slice the polenta into chips and fry in batches for a couple of minutes on each side or until golden and crispy. Drain on paper towels before serving with the mayo.
4. Mix the mayonnaise, olives, lemon zest and juice together. Season with freshly ground black pepper.