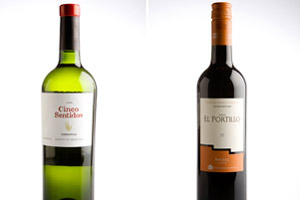 Wintry weather may mean we've not experienced that much of it in recent weeks, but when it comes to ultraviolet light, New Zealand is blessed or cursed with more than most. It's something that research is increasingly discovering could be behind the country's distinctive wine styles and even boost their health-giving properties.
"Scientists are interested in the effects of UV on plants because New Zealand receives about 45-50 per cent higher levels of ultra-violet radiation compared with similar latitudes in the Northern Hemisphere," says Professor Brian Jordan, who's been leading research into the effects of UV radiation on grapes and vines in an ongoing study at Lincoln University.
He's been looking at sauvignon blanc grapes and confirmed that UV affects the biochemistry of grapes and their resulting wines. This may lead to changes in the properties of the wine, such as its texture and the way it ages.
One of the major compounds triggered by UV are polyphenols, which are produced by the vine to protect it itself from UV radiation and accumulate in grape skins. These natural antioxidants have been linked to reducing the risk of heart disease in red wines, which unlike whites are fermented with the grapes' skins.
Conversely, grapes that were shaded by their leaves were found to have increased amino acid levels. "This is important as amino acids are the starting points for the creation of aromatic compounds in grapes," notes Jordan, such as the classic herbaceous and passionfruit notes that characterise our sauvignon blancs.
"I suspect UV affects the styles of wine we produce here in New Zealand," says Jordan.
"When it comes to differences between French and New Zealand wines, these may not be predominantly down to the higher levels here, but UV likely plays a part."
Our summertime ozone levels have decreased by 10 per cent since 1970 and this depletion has certainly helped boost UV here. Thankfully the hole in the ozone layer appears to be closing up. But I've often mused about whether this change will have any effect on the quality and style of wines we produce in the future - instead of making ripe and ultra-vibrant world beating wines, could we return to an era of unripe reds and weedy whites?
"I don't think we'll have a lower level of UV for quite a long time, which will potentially continue to be high in this area," Jordan reassures me, adding that other factors connected to climate change could make much more of an impact in the future.
When UV levels do start to decline, any issues that do arise should be mitigated by our increasingly clued-up winegrowers, informed by data on how to get the best out of their vines from studies such as Jordan's.
Another factor leading to high UV levels is altitude. this is something that many of Argentina's vineyards have in spades, with some planted at elevations over 3000 metres. It's the source of some wonderfully full flavoured and well-priced wines, which are well worth seeking out.
WINES WITH ALTITUDE
MEGA MALBEC
Bodegas Salentein Finca El Portillo Malbec, Argentina 2008 $18.50
Dark and brooding malbec is Argentina's flagship red variety, whose thick skins give them a greater propensity for high polyphenols even before these are boosted by stronger UV. This is a fine and highly affordable example with a smooth and supple palate of rich and dense dark berry and raspberry jam fruit backed by velvety tannins, notes of chocolate and spice and finishing on a fresh, floral note. (From gauchowine.co.nz)
ALTERNATIVE AROMATIC
Cinco Sentidos Mendoza Torrontes 2008 $20-$22
An extremely attractive example of Argentina's aromatic flagship white grape variety. Highly perfumed and suggestive of musk and lily of the valley eau de cologne, it's fresh rather than cloying with lots of zesty citrus and a hint of mineral. (From Accent on Wine, Wine Direct, Al Dente Wines, Havana House Cigars, Blend Wine Store.)
BEST VALUE
Trapiche Mendoza Malbec, Argentina 2008 $12.99
Wow, what a bargain! Trapiche does it again with another malbec packed with rich and juicy dark berry and plum fruit plus hints of fruitcake, spice and roasted coffee beans. (From King Dick stores, Duffy & Finns Pukekohe, Village Winery, New World supermarkets.)