Address: 425 Mt Eden Rd
Phone: (09) 630 1588
Email: themulberry.co.nz
Cuisine: Gastro pub style, lounge bar and dining room
Rating: 6/10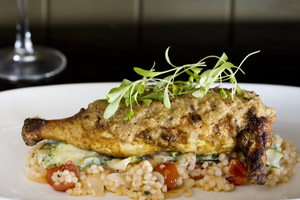 When I hear the term "gastro style" as a description for an eatery I can't help but imagine a stomach-ache and want to reach for a sachet of something soothing.
You can find hearty meals in most small town pubs and taverns in this country, but I swear none of them would describe themselves as "gastro style".
But the trend is catching on in the city, so off we trotted one night to Mt Eden village where The Mulberry offers a "gastro style pub" downstairs and lounge bar and dining room upstairs.
Waiting downstairs for my friend I perused the menu of "tastes" and my mouth watered. Pipi and clam fritters, roasted beets with Windsor blue, crispy squid and one of my all time favourite snacks, arancini - fried risotto balls. My stomach wasn't aching, it was rumbling with hunger as I read this menu of delights.
When my friend arrived, however, we traipsed upstairs to the dining room to experience "the essence of The Mulberry", as described on their website.
Downstairs had a casual charm, whereas upstairs felt more self-conscious with lounge bar patrons being entertained by a live music duo and the dining room decorated in soft tones and fancy wallpaper.
Apart from the venison pie with aged cheddar, the menu didn't scream "pub food".
Indeed, it appeared much fancier but still reasonably priced, with starters around $18 and mains about $32.
I'm hot for the flavour of pomegranate at the moment and it has nothing to do with its high level of antioxidants. What gets me is the sweet burst of the first taste, chased up by a delicious tartness. The fact it can be used in sweet and savoury dishes makes it a great ingredient to play with. At The Mulberry, chef Sal Grant has paired it with duck in a salad. It's a perfect duo with the astringent ingredient cutting through the richness of the duck.
Meanwhile, my friend had ordered the tiger prawns with white crab on cos lettuce. Unfortunately it sagged in too much mayonnaise and the heroes (presumably the prawns) were over-cooked and disappointingly slender. The crab? It must have hidden under a rock for all the flavour it contributed.
It's funny when you go out and one of you has all the luck with ordering, with each dish presenting itself gloriously, while the other is served up one disappointment after another. My sensational duck starter was followed up with a magnificent bowl of seafood.
The description on the menu - "steamed seafood" - didn't do it justice. With fresh mussels, white fish, cockles and more all swimming happily in a saffron bisque that was creamy without being sickly and the intense flavour and aroma of saffron was pitched just right.
The unlucky friend had gone for the chicken - coconut spiced organic chicken, Israeli couscous, zucchini, yoghurt and macadamia. Alas, this didn't translate as well as it read. There was too much going on and each ingredient had the disappointing effect of cancelling out the others. "Lack of flavour, no taste of coconut, yoghurt not tart enough" my friend mumbled between mouthfuls.
She knew her luck had to change sometime and optimistically ordered the Black Doris brulee. I held my breath as it was set down and she had the first mouthful. As a look of determination crossed her face and she stabbed the air with her spoon in a gesture of defiance she proclaimed,
"Now that's more like it, this is a damn good brulee." The scoop of bitter chocolate sorbet on the side was a great match for the plums. My luck held too. The rhubarb crumble tart was fantastic and had the lightest, shortest crust I've enjoyed for a while.
So I won't beat around the bush. The Mulberry has potential with a gracious old building beautifully restored, an interesting menu and friendly and switched on staff.
I couldn't help wondering if, however, had we stuck with the pub downstairs, where the menu looked less complicated, we might have increased our odds of both diners being fully satisfied.
From the menu: Duck salad $18, Tiger prawns $19, Steamed seafood with saffron bisque and garlic bruschetta $34, Coconut spiced organic chicken with Israeli couscous $32, Rhubarb & apple crumble tart $14, Black Doris brulee & bitter chocolate sorbet $14.
Drinks: Fully licensed