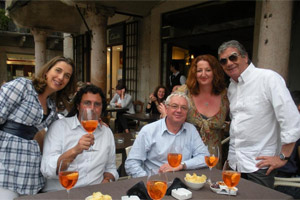 Jetlag and small delays become irrelevant when you are faced with an Icelandic volcano as a travel barrier, so it was a feeling of great fortune as our plane finally neared Milan airport.
This was possibly accentuated by the hands clasped in prayer (or gratitude) of the woman in her late 70s from Naples and her 88-year-old sister who were my row companions on the flight. And no, they were not at all "elderly" - the 88-year-old swept the young airport assistant aside with a derisive turn of her hand when he offered her a wheelchair. He would have received a friendlier reception from me.
Back on terra firma, we had no time to waste. Our first visit is to our pesto maker in Liguria. A few years have passed since our last visit, but it is the very distinctive flavour of the basil grown on the western hills and the high quality Parmigiano-Reggiano, Italian pinenuts, salt and cashew nuts (the latter to lend sweetness instead of whey or sugar) which keeps us coming back for more.
From here we head to Barola in Piedmont. Our aim: to visit Ristorante La Cantinetta run by the brothers Maurilio and Paolo and, because we had decided to add to the store's collection of Piedmontese wine, we plan to check out the region's latest wine releases.
Barolo is, they say, "the wine of kings and the king of wine", but we also discover some very quaffable Barbera d'Alba, Nebbiolo and Dolcetto. The latter of which is particularly good with pasta.
We spend an unforgettable session with the Rocco family of winemakers, eating bread and pizza, made in their wood-fired oven, as we overlook their beautiful vineyard. The Barolo flows and inspires a restorative sense of tranquillity, reinforced by the beautiful view of endless rows of grapes..
Meanwhile, at La Cantinetta the food surpasses memory. For a mere 30 euro ($60) you can enjoy a superb degustation. Make sure you leave room for the knockout silky pannacotta, which is unequalled in our experience so far.
Another day, another town, and a visit to our most recent guest in New Zealand, Claudio Stefani, at our balsamic supplier Giusti, in Modena - home also to Ferrari, Maserati and other elite carmakers. Seventeen generations on, this family has the most incredible selection of ancient barrels, in which they age their precious vinegar - which unlike many of the legal but industrial versions, remains true to its origins.
Nor do they mislead their customers about the ages of their product, which is a lure for the unwary and which the "Consortium of Balsamic" is now seizing bottles in stores throughout Italy - much to the upset of the many companies who use it as a false but attractive marketing tool.
Pavarotti, also from this town, was a Giusti client and so it was to the restaurant, Europa 92, on his property to which we head - again for a veritable feast of the traditional food of the region of Emilia Romagna.
Research at this point takes an even richer turn as we try a selection of the region's cured meats, at least three types of pasta (not light eating with rich meat and cheese) and a dessert trolley that could have stocked a small shop (no wonder the Maestro was generous in the waistline - as are we now).
A visit to the newish premises of the acetaia follows the next day, accompanied by a barrel tasting of many different ages of their precious product. A balsamic you can trust as well as enjoy. The age of the barrels has a huge influence on the final product and it is easy to see why Giusti stands at the top of the balsamic world. No stainless steel here. No white balsamic either (a contradiction in terms, as the cooked must, which is the base of any balsamic - industrial or true, is brown).
Next door you can find not only a bed and breakfast at an operation run by two mothers and their daughters, but also another simple but fine restaurant, where you really can't go past the mini polpette (meatballs).
A stop at Salumificio Pedrazzoli in San Giovanni del Dosso, our Italian small goods supplier, is next, where Elisa Pedrazzoli showed us their production and curing rooms. They are unusual as they only use GSP (Gran Suino Padano), which means their pigs are only Italian. The cost is 30 per cent more than pigs of other origins and they actually "grow their own" as we see from an afternoon visit with Emmanuele, her brother, to their farm.
The recipe for the superior flavour and quality of their salamis is simple: top quality own-bred porkmeat (they even make their own feed from whole cereals, which is also unusual), good salt, herbs and natural ageing ("flavours" or "aromi" on a meat label can also include unstated chemicals, apparently). Such a natural approach requires a lot of monitoring of stability and time - the industrial approach of other imported Italian small goods here is much cheaper to achieve.
Lunch is nearby, at the Osteria del Maiale. A very funky little place in a small nearby town, it offers Pedrazzoli cured meats accompanied by homemade mostarda (mustard), warm gnoccho and tagelle - the little pillows and rounds of puffed bread we'd also enjoyed in Modena - this time served warm in a paper bag with the top rolled back - very cute. At this point we politely refuse the rest of the proffered menu and plead for a salad. Delicious.
Onward to Nesente near Verona and a visit to Frantoio Salvagno, one of our original suppliers. Giovanni, his wife Elena and two daughters Cristina and Francesca are at the heart of this artisanal olive oil operation, which is supplied by their own trees and also those of local farmers who can also bring their olives to be pressed and have their own name on the Salvagno label.
Giovanni is well-respected in the olive world internationally these days and one of the secrets behind his fantastic oil is that he has invented a modern version of the stonewheel which he feels leads to a better end-product. So his olives are actually still stone ground before being pressed for oil. His oil is always balanced and non-aggressive in style and has long been extremely popular in our range.
You may also know his olives -some cured in brine, some pitted and cured in his olive oil - and the delicious olive paste of his stock.
Verona is a cultured, elegant city and we enjoy sitting in the heart of it in Piazza Erbe sipping, along with many locals and tourists, an aperitif called "Aperol Spritz", a pretty orange blend of Aperol and Prosecco served in a huge red wine glass with one or two slices of orange and ice. The Salvagno family are obviously well-known and liked, judging by the number of people we are introduced to.
Cristina's husband is the owner of the smart bar/ristorante Caffe Mazzanti along the strip and we notice that he uses Valrhona chocolate on his menu. "The best!" he assures us.
Other food we enjoyed on our short visit included polenta (a staple here) with quail and porcini, bollito misto with "piera" a local Veronese sauce with a grated bread base mixed with stock and Parmigiano Reggiano and, of course, risotto with Vialone Nano rice and one of Italy's landmark wines - Amarone. Fresh red prawns and scampi from Sicily drizzled with Salvagno oil also featured on the menu.
Next stop Spoleto, for a night, another ancient historical town - this time with magnificent views - and the following day on to Calabria to see Callipo, our tuna supplier.
Callipo is a fourth-generation processor of yellowfin tuna and their employees are fiercely proud of the family they work for and the quality of their product.
Nowadays a lot of "Italian" tuna is actually fished and processed in Thailand, so is more about price than quality. This is not the case at Callipo where everything is meticulously processed on site and strictly monitored and analysed at every stage. The tuna is fished in a dolphin-safe manner.
The huge fish is hand-cut, bled, cooked and then cooled slowly at fridge temperature. It is trimmed and sorted by hand and densely packed (everything is doubly cleaned and checked by both machine and person) into jars (larger pieces) or tins and matured for a least a month before release.
The olive oil they use is from Abruzzo, the seasalt from Trapani (which is why their tuna in brine is so nice too). All the tuna we have is from fillets (a lot of skilled handwork here) and the off-cuts are put into a second label. In fact, their tuna is even better with age, it is always moist and delicious. Now we know why.
With the back seat of our hire-car full of Italian treats and the orders placed for all our new discoveries - and some old faithfuls, we head home, excited to see what our customers will think of our finds.
* To sample these Italian delights, visit Sabato at 57 Normanby Rd, Mt Eden, ph (09) 630 8751 or buy online at sabato.co.nz.