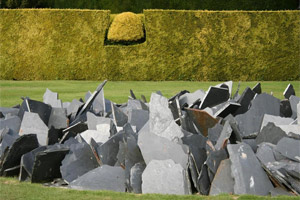 Revamping a neglected garden for a client, I was drawn to a rather large bamboo and two large conifers swallowing up too much space in a far corner. Beneath the jungle of branches I uncovered the ends of several sizeable boulders - the remains of a tiny pond and what must have been a little cascade flowing down a ravine of mossy boulders.
This is often how I picture rock gardens, rather twee and old-fashioned affairs populated by pert fir trees and carpeting alpines - all of which have forgotten they were supposed to behave and stay small.
Why anyone with a quarter-acre section would think they could pile a few rocks up in a corner, add a pump, and think they have evoked some glacial stream in the Southern Alps is beyond me.
If you happen to live in such a place and have the challenge and excitement of a real rock outcrop that's fine, but until recently I thought artificial rock features in a modern garden were doomed to failure.
Yet rock brings a sense of quality and permanence to a plot. Whether it's part of a path - a dry-stone wall or some other feature - it links a garden to the land and creates a sense of weightiness and strength.
Perhaps that's why you come across so many lifestyle blocks where the digger operator, while preparing the foundations, has turned up a lump of something too expensive to cart away and rather than bury it again in a corner, the owners have decided to show it off by dragging it to pride of place - often parked incongruously in the middle of their turning circle or at the entrance.
Yet somehow such excavated trophies fail as badly as the alpine waterfall. The rocks themselves are often dull and shapeless and the surrounding planting fails to link them to the garden as a whole.
Rock features seem to be a magnet for weeds and it's not long before dandelions and docks take over cracks and crevices, promising to make life miserable for years to come.
But then in London I came across a communal space designed by Tony Heywood. He uses rocks not as individual trophies but as raw material in what are gigantic collages wrought in gravel, grass and lopsided topiary. Tony's work owes a lot to the stylised simplicity of eastern Zen gardens, but his urban settings and use of modern materials such as coloured glass mulches and concrete give his work a strong abstract twist.
His work is a rock garden for contemporary times for he doesn't rely on some whopping big out-of-place boulder but builds a highly dynamic three-dimensional whole. It may be the way flat slates are built up and overlaid to give a rich reptilian pattern on the ground, or the arrangement of repeated uprights all lurching the same way like a flock of geese about to take off. Such careful arrangements tell a story and create a sense of movement in what is essentially a sedentary material.
Now, at home, I'm taking on the lessons learned.
The beauty of working with rock in this way is that all those little boulders and pebbles I turn up when digging and weeding suddenly become potentially useful materials if only I can gather together enough.
Instead of a real waterfall I'm going to slice through the lawn with a rivulet of pebbles; instead of a stab at a natural outcrop I'm laying my thinnest finds side by side to create a domino-toppling doughnut shape in the middle of the lawn. Once you start along this collage-style way of making landscapes, all sorts of everyday objects suddenly become potential materials, from bottles to beanpoles, bric-a-brac to old bones.
The secret is in having enough flair to arrange them with gusto. Anything from prunings to metal scrap could be trimmed and laid out - up a wall or through a border - to spell out a textural motif. But for now I'm starting with a touch of the hard stuff and my client's rockery will be the first casualty of my art. So say goodbye to the cascade, the sorry conifers, the cracks and the weeds. I'm going out to construct something beautiful. Let's just hope that when finished it isn't mistaken for a pile of rubble.