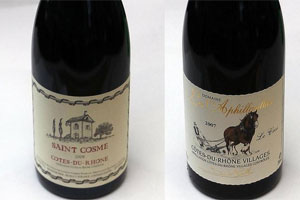 Couching his question in friendly terms, he sent a box of quirky French reds for tasting, asking: "If a wine has no sulphur added, does it mean it has no sulphur at all?"
Regular readers will understand instantly why I felt another preservative-free wine column coming on, but fear not.
This week's column is actually about syrah and grenache.
Before we get to that, the answer is: No. All wines contain sulphur because it's a natural by-product of fermentation.
To carry the theme further, one of those French reds was described as "naked" by wine importer Paul Mitchell because the wine has no added sulphur and was not subjected to the standard winemaking practices of fining and filtering.
Both are controversially said to "strip" wine of flavour and character, though they also stabilise it from refermentation by removing all residual solid matter (grape skins, pips et al).
Click on to the website of this dark, brooding red - vinedemio.com - and winemakers Sebastian and Zoe Vincenti Barthelemy explain that they adhere to "passive winemaking".
Like a small but steadily growing number of winemakers around the planet, they want their wines to taste natural rather than worked, which accounts for why the "naked" wine - 2009 Domaine de Fondreche "Nature" Cotes-du-Ventoux - tastes so earthy.
Is it good? I thought so, as did three very different male wine drinkers, who liked it for being big, bold and black as the cloudy, moonless night on which we tasted it.
This wine tastes as dark as 70 per cent-cocoa chocolate, too, thanks to the intensity of the syrah and grenache grapes it's made from.
And lest "passive winemaking" sounds like vinous child neglect, its makers kept this wine on its yeast lees (dead yeast cells, post-fermentation) for six months longer than necessary, as a protective measure against oxidation.
It's biodynamic winemaking, of course. Your average reds all contain added sulphur to prevent oxidation. As do most of the dried fruits and nuts we eat. The amounts are miniscule and true allergies are rare.
My pick of the reds that Mitchell sent was the 2007 Domaine Vindemio Regain and the 2009 Saint Cosme Cotes-du-Rhone is a close rival. All are good go-to winter reds. They all over-deliver.
If I had $20 to my name and was charged with buying a top French red, these would be my first, second and third choices. Sadly, for the one-stop shopper, they can't be found at the local supermarket. Email paul@wineimporter.co.nz and get on the list for his old-fashioned snail-mail newsletter, which opens doors of flavour to another world of wine.
WINES OF THE WEEK
2009 Saint Cosme Cotes-du-Rhone, $19.95
Taste France in your glass this winter in this outstanding syrah. Winemaker Louis Barruol's family have been in the same spot in the Rhone Valley since the 1400s and are one of the best in the Gigondas area.
2007 Domaine Les Aphillanthes Cotes-du-Rhone, $19.95
Complex flavours join forces in this chocolatey blend of grenache, carignan and mourvedre grapes, made by Daniel Boulle.
2007 Domaine Vindemio Regain Cotes du Ventoux, $19.95
Winemaker Jean Marots uses a traditional trio of Rhone Valley grapes, with grenache in the lead and supported by syrah's peppery flavours . It's biodynamic, fermented and aged in concrete tanks, and surprisingly complex. vindemio.com.