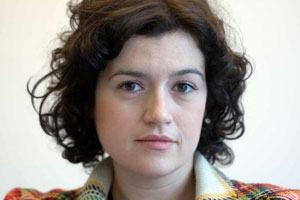 An open letter - to the woman who swore like a docker at my cab driver this morning.
And to the woman who was inexplicably rude to me on the phone just now.
Hello again.
I don't know why you are both so angry. It might be something in the water, or something in the air.
You might just have been dumped this morning, or you might be nursing someone you love who is terribly sick.
You might be despondent, or you, lady in the jeep, you might just have been late.
But there was something going on with both of you.
And then your orbits collided with mine, and now it's the end of the day and I'm sitting here on my couch with the taste of your bitterness at the back of my mouth. This isn't how it's supposed to be, I know.
In an ideal world, my cab wouldn't have been blocking your turn-off, lady in the jeep, and you wouldn't have been obstructed.
In an ideal world, I'd have RSVPed in time to your event, lady on the phone, and you wouldn't have had to deal with disorganised journalists who try to sort out tickets to an event that's been organised months in advance, an hour before it starts.
In an ideal world, you'd both be able to travel unimpeded and work unmolested. Today at least, that didn't happen, and it was my fault. I was the pain in your life, and I am sorry.
But still, did you have to be so rude? I'm asking rhetorically, obviously. Of course you didn't.
You in the jeep, you didn't have to roar obscenities at a cab driver who was idling in your way for the 10 seconds it took me to hop in, who was gunning the engine to drive off as you rolled down the window and called him a f***king something-something.
You absolutely didn't have to do that. And you on the phone, your screening may indeed have been full, but you didn't really have to tell me so in the irritated, supercilious way you did. Both of you took full advantage of the opportunity for rudeness with which you were presented.
You really went for it, and you left me reeling and seething in your wake.
It was the sheer unfairness of it that left me gasping. The outrageous disproportionality of your response.
You brought guns to a knife fight ladies, and you threw me for a loop. When it came down to it, the cab driver was a whole lot more sanguine than I was.
"It's funny how many people don't think your cab driver, he is human too," was all he said while I was frothing at the mouth.
If I'm to be absolutely honest though, the real reason I'm writing to you both is because I'm jealous of how you got to behave.
Of a gutter mouth and a graceless dismissal respectively.
Both of you got to do exactly what you wanted to do today.
One of you got to bawl me out, and the other got to flick me.
No explanation or introduction needed. Not so much as a by-your-leave.
We banged up against each other, and you both pushed back. You shoved, actually, and you got the offending obstacle out of your way.
I envy the freedom that must come with being able to barge past whoever is causing you trouble or giving you gyp. Hell is other people, said Satre.
Yeah, but you can always give'em hell back.
There's something deeply satisfying to giving rein to your inner bitch, or channelling the screaming toddler within and having a hissy fit.
You got to do that today, and I didn't. So why don't we all do that more often, I wonder. Why is rudeness like yours the exception rather than the rule?
Why don't I follow your lead and start doing more of that too? I know why.
If everyone acted like you two, society would be on its knees.
Our social contract, a diaphanous document at the best of time, would curl up and burn like a rizla paper.
Of course it would be nice to act out like you. But the thing about rudeness is, it doesn't get much done. It gets backs up, certainly. Gets blood boiling, gets knickers in a twist. But, as a strategy for getting anywhere in life, it's fairly pants.
We are bundles of needs and desires covered over with a veneer of charm. The charm isn't there just for sparkle, it's there to get things done. It's there so that we can interact with each other and get all of our competing needs met without flaying each other to the bone.
The law of the jungle, ladies, that's what you represent.
It isn't easy holding on to your manners in a provoking world.
But I'm happy to stay in my gilded cage of civility while birds of prey like you two are out there roaming the skies.