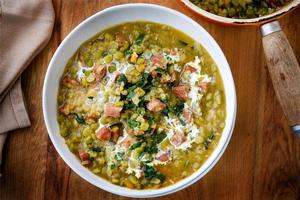 Serves 4
2 Tbs olive oil
2 chorizo, diced
1 onion, finely diced
2 carrots, finely diced
2 sticks of celery, finely diced
1 Tbs ginger, freshly grated
1 cup split peas
1 L chicken or vegetable stock
Salt and freshly ground black pepper to taste
2 cups silverbeet, finely chopped
cream
1 Heat a large saucepan, add the olive oil and chorizo. Stir for a few minutes to bring out the flavours, then add the onion, carrot, celery and ginger. Cook while stirring for 5 minutes or until the vegetables are tender and golden.
2 Add the split peas, vegetable stock and seasoning. Simmer for 30 minutes or until the split peas are tender.
3 Add the silverbeet and cook for a further 5 minutes before ladling into warm bowls and adding a swirl of cream.