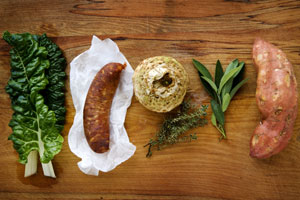 Big bowls of steaming nourishing soup - quick to throw together, delicious and comforting at this time of the year and especially good when served with warm crusty bread and butter and a glass of wine - what more do you need?
For soup to taste good, it's all about the quality of the ingredients. You need to spend a little time making good stock. If time is short there are good stocks available from the supermarket, but some are better than others. Look for ones low in salt and with a gelatinous consistency.
If you can spare 15 minutes, throw some bones in a pot and cover with water, then add onion, celery, carrot, peppercorns, bay leaves, some garlic, maybe leek and a little lemon zest. Simmer for a few hours, strain and use. Stock is also good to have in the freezer for other dishes, such as risotto, couscous and casseroles. Chicken, lamb, beef or fish bones can be used for stock but aren't necessary, a tasty vegetable stock can easily be made instead.
The other important step when making soup is to take time to cook the base ingredients in order for caramelisation and flavour.
For instance, onion, carrot and celery with garlic and herbs chopped finely and cooked in a little olive oil and butter until golden, creates a flavoursome foundation.
Today's recipes include sweet and velvety kumara soup with watercress dumplings; and split peas cooked up with spicy chorizo and silverbeet to make a hearty soup finished with cream.
Celeriac is a delicious vegetable. Looking like a bulbous baseball and smelling of celery, it is good paired with potato in a creamy soup topped with fried sage and thyme. All that's left to do is get your hands on some well-made bread and don't forget to warm the soup bowls.
CHEF's TIP
Soup can be refrigerated for three days or frozen for a month. The dumplings can either be baked like scones and added before serving or added to the soup to steam with the lid on.