Herald on Sunday rating: 3.5 out of 5
Address: 376-378 K Road
Phone: (09) 300 7582
Open: Tuesday-Friday from 5pm; Saturday from 6pm
Website: cocoscantina.co.nz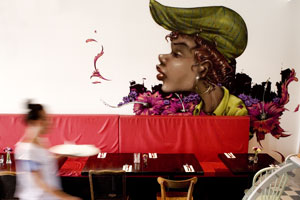 If you want a table at Coco's, show up early. When we got there at 6pm, it was starting to fill. We tried to drag two tables together to accommodate the five of us and the waitress pounced. She told us, very pleasantly but in an unmistakable "this is how we do things round here" tone, that the pair of small square tables we thought was for four was actually for six.
"In half an hour or so," she said, "this place will be packed."
She was right, of course. By 7pm on a Tuesday night, it was positively heaving. No wonder they don't take bookings.
The Professor's son told us he got a text from a mate who had glimpsed him going in. "So, you're going to the hipsters' hangout," it said - though without the apostrophes, I bet.
I saw his point. If Coco's were any more hip, it would be hooray. Not all of the clientele are younger than a good Bordeaux - we spotted a couple of women of what the French call un certain age - but the Professor and I were certainly among the more senior citizens.
So we pulled rank and took one side of the table, while our three twenty-something guests took the other. This was a little unfair to Emma, who was about 38 weeks pregnant at the time and is due to make the Professor a grandmother this coming Thursday. But she's pretty handy with her elbows and she claimed her share of space.
If the ambience is rich enough to bottle, the handwritten and photocopied menu suggests - as does the name "cantina" - that it's pretty casual. But the prices are not exactly relaxed. The pasta (of which more below) is pricier than Delicious' (which is hardly bargain-basement) and the mains at $30 or so, sides extra, have a more than moderately high opinion of themselves. The question was: would we?
Well, the stuff we could taste was good.
The entrees included a lamb-and-feta terrine and another dish of cold roasted beetroot drizzled with orange and scattered with pistachios. Both were inventive, though I did think that charging $7 for extra bread (four small slices of indifferent-quality baguette) was a bit rich, given the size of our order.
The mains, however, showcased the chef as an out-of-control salt freak. The Professor noticed first that her ravioli (its filling was of pumpkin and pancetta, the menu said) tasted like the Dead Sea. The other females in the party - I caught myself wondering if excessive salt is dangerous in advanced pregnancy - said their fish had the same problem. I checked both; they were right. This wasn't just enthusiastic seasoning; this was a lip-puckering, cheek-sucking, eye-rolling sodium chloride attack.
The son reckoned his steak was salty too, but I think he was just trying to be sociable, so I ruled him out of order. And the remarks about the polenta chips, a menu highlight that exults in salt, suggested people were starting to get silly about it. Anyway my crumbed cutlet of veal, a dish seldom done well, was just perfect.
At this point, having demolished about four carafes of water between us, we had no nerve for dessert, though there's an attractive selection in a cabinet which includes a (presumably salt-free) tiramisu. My suggestion paraphrases the famous Chicago advice about voting: Eat early, eat often. And ask them to hold the salt.
Ambience: Heaps
Vegetarians: Starters and pasta
Watch out for: A table
Bottom line: Salty
THE BILL
$262 for five
Entrees: $13 - $17
Pasta (large): $27
Mains: $28 - $30
Sides: $7
Wine (four glasses): $40
Cocktail: $10