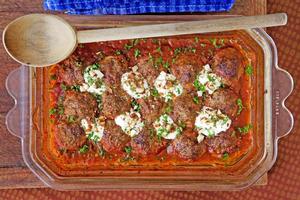 Serves 4
Sauce
2 Tbs olive oil
1 onion, finely chopped
2 cloves garlic, finely chopped
2 tsp coriander seeds, crushed
2 tsp cumin seeds
Zest of ½ an orange
¼ tsp cayenne pepper, or more according to taste
½ tsp cinnamon
2 x 400g tins crushed tomatoes
1 tsp sugar
Salt and freshly ground black pepper
Meatballs
500g lamb mince
¼ cup ground almonds
1 small onion, finely diced
2 Tbs parsley, finely chopped
1 Tbs coriander, finely chopped
Salt and freshly ground black pepper
2-3 Tbs olive oil for browning
Greek yoghurt, roasted almonds and za'atar to serve (za'atar is a Middle Eastern blend of sesame, thyme and sumac available at gourmet food stores)
1 To make the sauce; heat the oil then add the onion, garlic, coriander seeds and cumin seeds. Cook, while stirring, for 5 minutes.
2 Add the zest, stir, then add the cayenne, cinnamon, tomatoes, sugar and seasoning. Let simmer for 15 minutes.
3 Preheat oven to 180C. Make the meatballs by mixing all the ingredients together, except the oil.
4 With wet hands, shape the mixture into small balls. Heat the oil and brown in batches.
5 Pour the sauce over the meatballs into an ovenproof baking dish then bake for 30 minutes. Serve with spoonfuls of yoghurt, chopped almonds and za'atar.