Large families have long attracted stares and jokes. They have also been the inspiration behind screen dramas, from the 50s' film Cheaper By The Dozen to the 70s' TV series Eight Is Enough. Shelley Bridgeman meets three New Zealand families for whom sharing is an everyday reality - and they wouldn't want it any other way.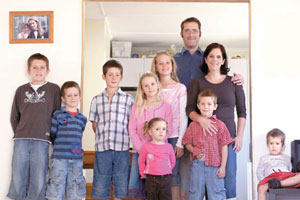 All Tessa Palmer, a self-confessed "home-body", ever wanted to do was be a wife and mother of a large family. Luckily her husband Glen, whom she married at the age of 19, was of the same mind. "Right from the start we always said: 'Let's have six'. And six came along very, very fast, a lot faster than we expected, actually," she says. "So when we had six, we [had to decide] 'okay, do we stop? Are we done?' We sat in a cafe and made the fateful decision to try for one more baby."
Their one last baby turned out to be twins - Jared and Renee, now aged 2. Along with older siblings Hayden, 12, Rachel, 11, Shane, 10, Kylamarie, 8, Philip, 7 and Ethan, 5, they comprise the Mangere-based Palmer family. Tessa, a stay at home mum, relies on Glen's support - both practical and emotional.
"He is my backbone. I couldn't do this without him. Right from the beginning Glen's always made sure that his job and his hours have been family-friendly. It's rare for him to come home after 5 o'clock. Usually it's between 4 and 4.30, which I think is a real blessing. I have friends whose husbands don't get home until 7 or 7.30 at night and I think I would be in the loony bin by now if that was the case."
The Palmers have decided that, with sufficient children to make up their very own netball team with one reserve, eight is enough. As it is, they create a great deal of interest from curious passers-by whenever they go out en masse.
"Everywhere we went, everyone would stare. When I had my twins the public attention stepped up a notch," says 32-year-old Tessa.
"We'd all go out to The Warehouse and you'd see people. They'd walk past us, they'd spot the twins in the pram and they'd actually stop, turn around and come and have a look inside and count. Even as we're driving, at the lights people will point and go: 'one, two, three, four, five, six, seven, eight'. I've taken to stopping them and saying: 'There's eight' as soon as I start seeing a hand pointing. And they usually laugh or feel embarrassed or something."
It's little wonder these extra-large families generate a high degree of comment; with family sizes diminishing they're becoming increasingly rare. At the last census 93 per cent of New Zealand's 640,000 families had either one, two or three children. Just 384 couples had eight.
Super-sized families have a lot in common. The mothers are preternaturally pragmatic, the fathers uniformly supportive. As well as sharing unwanted public scrutiny, their households are rowdy, their homes unpretentious. Rules and routines get them through their busy days and being organised is an absolute must. Minivans are the main form of transport and canny budgeting stretches the housekeeping dollars that bit further. Holidays are often spent at home but any lack of material luxuries is more than compensated for by an abundance of familial love and warmth. And, most importantly, each child is welcomed as a blessing, a precious gift.
"It's very chaotic. Our house is full of noise and laughter. At times it can be full of arguing and bickering but there's always something going on," says Tessa. "Even just chatter around the table can escalate to the point where you actually have to yell to be heard." The dining table, which seats eight, accommodates all the children but Tessa and Glen usually eat their dinner sitting on the couch.
The Palmers, whose family vehicle is a Toyota Hiace 11-seater van, live in a "fairly small" four-bedroom house with just one toilet.
"The number of times that I go to the toilet, in the middle of the night even, and there's someone already there ... Our house is pretty rough around the edges and I prefer it that way. I don't want the kids running around feeling like they need to tiptoe. It's very lived-in.
"One of the biggest disadvantages to having a large family is banks don't like you. One of the first questions they ask you is 'how many dependents do you have?' We had six children when we tried to get our mortgage. It was literally like trying to get blood out of a stone."
Thanks to the efforts of a mortgage broker, the Palmers do own their home but Tessa dreams of one day buying a larger house with three bathrooms.
Collectively, they consume close to three litres of milk and three loaves of bread daily. They "buy absolutely everything we can second-hand" and clothe everyone from the garage sales they attend each Saturday. Five or six loads of washing are done per day. While Tessa takes the endless washing and drying in her stride, she is regularly daunted by the "mammoth pile" of folding that almost reaches to the living room ceiling.
"I tell people a lot that I'm quite ordinary. I guess that's hard to swallow. I understand it probably sounds a bit odd because our family is anything but ordinary. But I'm a simple person who just loves having children. I love the simple pleasures of life - holding my babies in my arms, giving them kisses and hugs and lots of smiles, and just seeing the pleasure in their faces. It's something I feel is priceless, invaluable."
Despite his ambition to have a large family, Glen acknowledges the reality has its challenges. "It had been something that I had in my mind but I wasn't quite ready for. But it happened."
Glen, 32, is a hands-on father who makes a point of spending as much time as possible with the children. Having to spread his attention across eight offspring means that often they don't get as much 'dad time' as he would like.
"One of the difficult things is to make time for each, especially one-on-one. There's little things that I do with them ... If I'm heading up to the supermarket or something I'll grab one or two kids and take them with me and make a fun time of it."
Recently he has started taking the older ones out for special treats; in December he took 11-year-old Rachel to dinner at a restaurant and plans to play Laser Strike with the two oldest boys.
Inevitably, focusing on the children comes at the expense of the adults being able to enjoy each other's company as a couple.
"The worst part ... it's difficult to have time to myself sometimes or more time for me and Tess to ourselves. We try and get out maybe once a month on a date-night, normally dinner; it gives us a chance to talk and relax."
But Glen, a supply chain manager, has no doubt than any minor disadvantages or inconveniences created by the family size are greatly outweighed by the sharing and co-operative attitudes its members seem to adopt naturally.
"There's a big benefit in big families, where the tendency to be selfish isn't there. There is an expectation that they pull their weight, I guess. There's an expectation that they participate with the family and not let everyone else do all the work. We're kind of training the kids to be self-sufficient," he says.
Glen is just as bemused as his wife by the responses of strangers to their large brood.
"We all went to the mall last weekend and had an ice cream. It's always the same. It's like a broken record. It's crazy. There's like two or three comments that everyone'll make: 'Are they all yours?', 'you've got your hands full' and 'don't you have a TV?'
*****
Angela Archer and her husband Simon, both 52, are practising Catholics with a grand total of 11 children: Brigid, 32, Rebecca, 30, Gabrielle, 29, Sarah, 28, Hannah, 26, Leo, 22, Frances, 20, Miriam, 18, Elizabeth, 16, Samuel, 14 and Madeleine, 8. Only the youngest four still live at the family's Papakura home; the others are away working or studying. Because Angela's childbearing was spread over 24 years, nine children were the most the Archers had living under their roof at any one time.
"And that was busy. I had to be organised ... The girls learnt to make breakfast for the younger ones and I always breastfed my babies so I'd be up feeding whoever. The priority was the little ones," says Angela.
But when it came to ablutions the older girls had preferential bathroom access.
"If they needed to shave their legs they had to do it at night because time was too precious in the morning."
A roster system covering bathroom usage and lunch-making was briefly trialled "but inevitably it broke down because of sporting commitments or whatever ... I feel as though I've spent my entire life refereeing and cracking a whip. It was years of that - and being the 'meanest mother'. It was basically having the kids obey the rules. They had to bring up their dirty washing. They had to change their sheets. They had to make their beds. They had to keep their room tidy. If they didn't do that it would just descend into absolute chaos".
Money-wise, raising nine girls and two boys has been a strain.
"Somehow we've muddled through. Again, through prayer and we've been blessed with the occasional large gift of money to help us out. The house needs repair work done and a few things are falling apart but we've always managed to eat," says Angela, adding that mince and sausages regularly feature.
"I tell people we're poor financially but rich in every other way," says Simon, a human resources and operations contractor.
There may have been frequent fights and strong differences of opinion between the Archer children while they were growing up - "the girls tended to bitch and they had the gift of the gab over the boys" - but today they share a camaraderie that has endured long after most of them have flown the nest.
"They're very loyal to each other. They're supportive. If anybody puts one down - anybody from outside the family or anything - they will certainly stick up for each other," says Angela.
"Birthdays are neat, and family occasions, of course, because there are so many of them. I can't imagine not being with them. I try to imagine if we'd stopped at four."
And, it seems, that to flourish within a large family means acquiring positive characteristics.
"We've noticed how well-prepared our kids are for life. They've learned to share, they've learned to take responsibility, they've learned accountability," says Simon, whose car number plate reads "PAOF11"; Angela's is "MAOF11" and they frequently elicit friendly toots and thumbs-up signs on the motorway.
Predictably, whenever the Archer tribe ventures out to celebrate mass at Christmas or Easter they attract attention.
"People look sideways at us. People are genuinely interested. You know: Fancy having 11 children! How do you do it? How do you cope? What's your grocery bill like? How do you manage with bathrooms?" says Angela.
"It's quite funny really. We couldn't imagine just two kids. And they came out one at a time. It wasn't as though you get 11 kids dumped on you all at once."
Being asked personal questions by complete strangers is all part of being a parent of a cricket-team-sized family. Simon has a stock of "pet responses" to deal with such interrogations.
He routinely replies to remarks such as "don't you know what causes it?" and "don't you have a TV?" with a caustic: "Well, how's your sex life?"
*****
New Plymouth-based Delwyn McManus, 41, and husband Dene, 45, have six children: Petra, 18, Kimberly, 16, Toby, 13, Tremain, 10, Logan, 8 and Eli, 6. Such a large family is a considerable accomplishment for a woman who in her early 20s was told by a doctor that she would be unable to have children. So Petra's arrival seemed like something of a miracle. Subsequently being advised they were suffering from secondary infertility effectively dashed the couple's hopes of more children.
But they defied medical wisdom once again.
"When we had the chance to have Kimberly, we had Kimberly and we just kept going, basically. We look at it as 'every child's a gift'."
The addition of further children - four boys - to the family was somehow symbolic of beating the conception odds, a celebration of a freshly discovered fecundity. Because Delwyn's last pregnancy was a stressful one in which she developed gestational diabetes, the growth of the McManus clan was curtailed.
"We thought: 'Nah, six is enough now'."
The living conditions in their three-bedroom ex-state house with just one small bathroom are still cramped, even though their eldest has moved to Christchurch to study. Kimberly has her own room; the two oldest boys share another, while the youngest two share the third bedroom. So where do the parents sleep?
"My husband and I made the radical decision we would live in the lounge. It's only for a [little longer] because our 16-year-old will be leaving in a couple of years," explains Delwyn.
"People think we're nuts, that we should buy a bigger house with a bigger mortgage, which we've decided we don't want to do."
The chief mode of transport is a seven-seater Honda Odyssey and the extendable dining table is permanently at full-stretch. House rules dictate that each child must cook a family meal once he or she reaches high school. Even the 6-year-old makes his own school lunch. Supermarket specials, meat that is reduced to clear and cheaper cuts such as pickled pork are often on the menu. Shoes are $10 a pair from Number 1 Shoes.
A simple trip to McDonald's can cost a prohibitive $60. Instead of going to the movies, they often rent three or four DVDs for a marathon viewing session at home.
"We don't do big holidays, things like that. You just don't put that in the equation."
The children cheerfully wear pre-loved, op-shop clothes and hand-me-downs.
"My eldest actually summed it all up when I first started doing it. [She said] 'but it's new to me, Mum'."
Delwyn has to steel herself for the reaction of people when she's out in public with the children.
"Some people can be really rude - really, really rude. A lot were rude when I was pregnant with number six. They'd say: 'Don't you know how it works? Can't you control yourself?' You have to brush those really horrible comments off."
Recently a less-than-charming fellow supermarket shopper, upon discovering her family's size, said, "I hope you're not having any more".
One of the biggest rewards of having a large family is that affectionate moments can be larger than life, often involving an ensemble cast.
"The kids, they've got this constant love with them. My boys are real cuddly boys and they will come up - when we're in town or something - and just randomly I've got four of them doing a group hug on me. Those sorts of things are really cool."