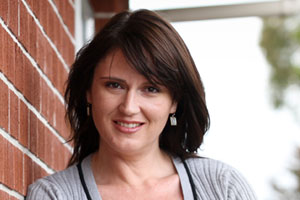 Shelley Bridgeman talks to four women about the changing face and shifting perceptions of contemporary feminism.
Emma Joyce calls herself an "under-the-radar feminist". She holds views on specific women's rights - without overt reference to the broader feminist movement - and she hold them quietly. It wasn't always so for feminists. But there is, at least for Joyce, a good reason. "When you think about feminists ... there's this idea that they're all very angry women with hairy legs. So people don't want to hear about that because that's boring," she says.
What Joyce is concerned with is gender equality on a personal level - such as how having a baby might affect her career - and she laments the dearth of women around the board table.
"The feminists back in the day told us we could have everything and I think we've got to realise that, no, we can't have everything, we do have to make decisions," says the 27-year-old. "If we want to have babies then perhaps we do have to sacrifice career.
We've got to realise that we can't have it all."
Joyce wonders if paid maternity leave and other family-friendly policies that earlier feminists fought for have in fact been doing women a disservice, if women in the child-bearing years are now considered "risky" candidates by prospective employers. "Is that putting up a barrier for us in the workplace?"
According to Joyce, the main difference between post-millennial feminists and those from the previous era boils down to individual versus collective. "The old school feminists, they want the sort of collective action, whereas we're not really forming into groups. We've been brought up to make individual decisions and the idea of going to a big women's consciousness-raising meeting as they did in the 70s just fills me with absolute horror."
Nonetheless Joyce acknowledges the debt women today owe to the highly organised work of those early women's libbers. "I can see what the older feminists did and how it's actually empowered me now," she says.
Despite the lingering gratitude for advances made and rights granted, there's the strong sense that fewer and fewer young women are calling themselves feminists today. Formal lobbying for gender equality has all but fallen off the social radar. Even our universities, traditionally hot-beds of the feminist movement, are feeling the pinch. Last year, only around 20 women from a 22,000-strong female student population at the University of Auckland felt sufficiently inspired to participate in the Campus Feminist Collective.
Perhaps the feminist movement has become a victim of its own success. With voting rights and legal rights well established and unprecedented social freedoms, on the surface it seems that women have never had it so good. Yet the perceived complacency is not universal. There are still discreet pockets of women intent on furthering feminist goals. But feminist is no longer a one-size-fits-all label; rather, new breeds have emerged. A fresh crop of women, intent on pursuing their own particular brand of equality, who refuse to be homogenously classified under a single word, have taken over where their predecessors left off.
As the University of Auckland Students' Association's women's rights officer for 2009, Caroline Fergusson was the official voice of feminism on campus.
"The forms of oppression that women face now, they're not overt, they're very hidden and a lot of women accept them and try to work within it - I guess as they always have," says the 23-year-old. "Obviously, the word 'feminism' is not a popular word. Usually if I talk to a young woman and I say 'are you a feminist?' at first her response will be: 'God, no'. But then, if you actually sit down and explain what it is you're talking about and some of the issues that I've been campaigning on, they will end up coming around."
Issues Fergusson dealt with include having student magazine Craccum held to account for publishing degrading pornographic images as well as responding to cuts to sexual abuse counselling. Sexual harassment and violence against women are perennial feminist concerns.
"I think the statistic is one in four New Zealand women will be physically assaulted or sexually assaulted by a partner in their lifetime," says Fergusson, who worries, too, about the sexual objectification of women, "which ranges from really sexualised young girls and their Bratz dolls and sexualised toys, right up to the effects that has on women when they are entering the workforce".
Making the university more "female-friendly" was also a priority. Muslim women and those of Asian and Pacific Island descent are high users of the university's dedicated women only zone, Womenspace. Fergusson thinks that "middle-class Pakeha girls are more used to or more willing to accept" the dominant culture on campus.
"It's like the rest of the campus is a men's space so males have got the run of things," she says, adding that there's an annual bloke-led campaign against the "no boys allowed" area.
"They say it's discriminatory and the fact that we don't have a men's rights officer is discriminatory. And then I have to spend a huge amount of my time explaining why men aren't structurally disadvantaged and don't require a space or a rights officer."
Fergusson subscribes to a grass-roots feminism that is fundamentally unchanged from that of a generation ago. "I think ... being pro-choice would be a key requisite of being a feminist and just the ideas that women are the moral equals of men and deserve the same opportunities and richness of life experience."
Gender equality and abortion rights are core tenets that have long formed the basis of the feminist movement. Yet, as with any movement, particular brands of feminism begin to gain traction in certain quarters, raising alarm among more traditional adherents.
"Part of third-wave feminism ended up with what is sometimes called 'Spice Girl feminism'," says Fergusson. The time-honoured technique of women overtly using their femininity and sexuality to have power over men has been masquerading as a type of women's lib since the 1990s. It's a flawed, faux feminism Fergusson dismisses as a "stripping-is-empowering kind of attitude."
United States feminist Ariel Levy coined the term "female chauvinist pigs" to describe women who embrace a "porn star" stereo-type of what constitutes attractiveness and behave raunchily, even promiscuously. "How is resurrecting every stereotype of female sexuality that feminism endeavoured to banish good for women?" asks Levy.
"It's that whole thing about: the system of oppression is at its most powerful when the oppressed believe in that system," says Fergusson.
"That's quite a big theme in modern feminism, to address the way that other women have been drawn into the cultural oppression of women. The thing against which we're fighting now is so integrated into bigger systems and so difficult to draw out and to bring people's attention to."
Unsurprisingly the power of the internet has been harnessed to spread the feminist message. The US has the feministing.com website; Britain has The F Word. In New Zealand The Hand Mirror is the online forum for feminist debate and the sharing of a diverse range of feminist theories and perspectives.
Julie Fairey, 32, a regular blogger on the local site, names pay equity and violence against women as two key feminist concerns. She rejects the notion that feminism may be an outdated movement with diminishing relevance. "How can we possibly be in a post-feminist world when we still have most women changing their name when they marry - and that's just an accepted thing? And where women are still paid 88 per cent of what men are paid?" she says.
"To me feminism is about making sure that women have a place in society that is safe, that they're not threatened because of their gender - or other things that go with their gender, like looks - and that we can participate actively in society in the same way that men can."
"It can sometimes get really depressing but if we look back 50 years, we didn't have ready access to contraception, you couldn't get a bank loan without your husband," says Fairey.
"But then I look at [the doll] Strawberry Shortcake. She's been all reinvented and she's really skinny compared to the Strawberry Shortcake when I was a kid. And stuff like that says to me our work is not done."
Madeleine Flannagan is a self-described feminist and conservative Christian. It's a combination that many people would consider incompatible but this 36-year-old blogger sees no conflict, despite the fact she considers abortion "a form of homicide" and disapproves of "shoving your kids in full-time daycare when they're 2 months old".
"To me feminism is the concept that men and women are equal." She maintains that equality means freedom for women to make choices even if they're not approved of by mainstream feminists.
Flannagan has faced criticism for staying at home to care for her four children and for taking her husband's name upon marriage. "To me, if we're really equal and we're really free then why can't we choose to do that?" she says.
"I think they need to get out of the mindset of the 'sisterhood'. If they really believe that women should be able to determine their own lives and are free to make their own decisions then they shouldn't object when women make decisions to do stereotypical female things, if they want to go and become nurses or they want to stay at home and be mums."
She sees contradictions, too, within the principles of classic feminism. "On the one hand, if a woman poses naked in an ad, it's [considered] exploitative of women but the next minute they're saying: 'My body, my choice.' And I'm going: 'What? Is it or not?' Or is it only your body when you're making a choice that [those particular] feminists want you to make? There's a sense in which the left-wing feminists say 'you're free to make those decisions but only within a certain context'."
Interestingly Flannagan once held the position of women's rights officer at the University of Waikato mainly because she didn't believe in the role and thought it was safer in her hands than in those of a textbook feminist. She views such gender based roles, along with agencies such as the Ministry of Women's Affairs, as a form of tokenism.
"All those sorts of things suggest that women are inferior, that women are a minority, that women can't help themselves," she says. "Dumping things like that would be good. They're just like: 'women need a leg up, women are weak, women need the handicapped entrance ...'"
Auckland Regional Councillor Sandra Coney has long been considered something of a radical feminist. A veteran women's rights activist, the 65-year-old edited the feminist magazine Broadsheet from 1972 to 1985, was a counsellor at a private Remuera abortion clinic, protested on Queen St, about a rape trial, helped set up the first university creche and fought for equal pay for women.
Thanks, in no small part, to the work of such campaigners, the Equal Pay Act 1972 was introduced, making it unlawful to pay men more than women as had been common practice. The Human Rights Commission Act 1977 made gender and age discrimination in the workforce unlawful; sexist job advertisements specifying, for example, women aged between 20 and 25 were no longer permitted.
Despite the enormous strides made in her era, Coney still sees room for improvement.
"I think women get a particularly rough deal around childbirth. They're meant to just drop a baby and keep going - a bit like Chinese on the side of the paddy fields. We weren't fighting for that," she says.
"And, actually we wanted the workplace to be much more family friendly than it is. The idea that you go off and you have three or six months to have a baby and then you're back at work, was not what we were fighting for. Basically women have fitted in to a kind of male workplace and male workforce arrangements rather than [the workplace] changing to accommodate women."
And what does she make of the fact that since Helen Clark, Margaret Wilson, Silvia Cartwright and Theresa Gattung vacated their respective positions of Prime Minister, Attorney-General, Governor-General and Telecom chief executive, women no longer occupy these top jobs?
"I think that particular cohort of women came out of the feminist movement and were deeply influenced by it and those are women who are now in their 50s and 60s and now we're not doing so well with the next cohort down perhaps."
It was recently reported that only 8.6 per cent of NZSX Top 100 directors are female. Moves to improve this figure have met with warnings that this sort of gender positive discrimination could backfire and leave women open to accusations they have not achieved their positions through merit.
"There was a wonderful answer to that: 'mediocre men can get to the top; when mediocre women can get to the top we'll have proper equality'," says Coney.
Echoing Levy and Fergusson, she expresses concern about the "sexuality and body images" of contemporary women who are "presenting themselves like tarts ... and wanting to be very casual in their sexual behaviour. It's totally about male approval and attracting men and doing it by your body and your sexuality. So what's new about that?"
Coney says feminism has long been considered a confronting word and acknowledges the cringe factor often associated with it.
"I think women are very worried about being identified and seen as a feminist and so they shut up. You're not winning the popularity poll to proclaim that you're a feminist," she says.
"I'm very glad I was able to live through that time because at least I can look back and think 'there was a lot of meaning in my life, contributing to that social change'. I don't know what young women, when they're my age, will look back and think. That they made a lot of money? They had a successful career? That they had 10 sets of breast implants in their life?"