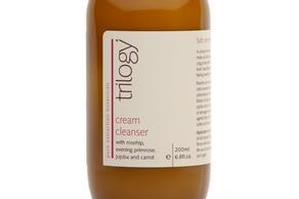 If the idea of putting oil on your face, let alone your hair, makes you feel slimy then you're out of step with emerging thinking on skin cleansing and conditioning.
But you're not alone, I loathe having oil dragged up into my scalp during a facial and have only just started to appreciate how fine an oil can make skin feel.
Blame the aversion on decades of skincare boasting its oil-free status. We don't think twice about putting oils on our legs or babies' bottoms, but the face is the final frontier.
Using oils to anoint the skin recalls age-old rituals, and oils underpin skincare in many simple societies across the globe. A 70s hippie staple, their renewed use in the West is in tune with our hankering for a more natural approach.
Not all oils are created equal: some are plant-derived, others mineral-based. While the natural skincare sector swears by the "living energy" and nutritional goodness of plant-based oils and there's plenty of angst out there about mineral products, they have long been used effectively in skincare, with petrolatum found in many balms.
To my mind, the most pertinent consideration about mineral-derived oils, given that they are hydrocarbons, is one of sustainability.
As environmental awareness grows, bigger pharmaceutical companies are exploring the territory that the likes of New Zealand's own natural ranges such as Trilogy and Antipodes already occupy. Both base their ranges around plant-derived oils. Trilogy's hero ingredient is rosehip oil and Antipodes' avocado oil. They're favourites, along with olive, argan and good old coconut oil.
Trilogy co-director Catherine de Groot says it's a myth that people with oily skins can't use oil-based cleansers and that they clog pores. She points to the oil-attracts-oil maxim as to why they effectively remove dirt and says good oils nourish and protect at the same time. People with oily skin often use too harsh a cleanser, she says, which strips oil, but with it skin's protective mantle, leading to a vicious circle of oil overproduction and uncomfortable surface tautness.
"People with oily skin are often surprised with the rapid improvement in their skin condition that results after using an oil-based product."
If you are using cleansing oil, be sure to wipe it gently from your face, with a cotton pad or clean face cloth. New formulations emulsify in water making them easier to wash off. Moisturising oils should absorb into the skin rather than leave a greasy residue.
If you're still not convinced you want to apply oil direct to your face, then try an oil-rich lotion instead. You'll get diluted benefits from the ingredients, if not the full, immersive (and sometimes messy) effect.
Trilogy Cream Cleanser $39.90
A gentle oil-based cream cleanser, with rosehip, evening primrose, jojoba and carrot. Suitable for all skin types. Rosehip oil is recognised to reduce scarring, due to the fatty linoleic acid it contains. Because it mimics the lipids found in skin cells, rosehip is readily absorbed. Trilogy uses rosehip oil across its range and as a standalone face and body moisturiser.
Estee Lauder Take It Away Cleansing Oil $62
This oil functions as a dual cleanser and makeup remover that can dissolve even long-wear and waterproof makeup. It's light enough for oily skins, yet hydrating for drier complexions. Contains calming aloe vera and other botanicals. (Brand counters.)
Dermalogica Pre-Cleanse $79
This finely textured oil feels like it really is mopping up all the grime, including makeup and sunscreen, before the application of a lotion as a final cleansing step. It contains olive, kukui and rice bran oils and I love the feeling, but I'm not big on multi-step regimes unless lying down letting a facialist do the work. (dermalogica.co.nz)
Za Deep Cleansing Oil $13
A cheap way to try oil's effectiveness. This rinse-off cleanser can even tackle waterproof mascara. The Za range offers good options for younger skins. (Brand displays in selected department stores and pharmacies.)
Dr Hauschka Normalising Day Oil $65
Using homeopathic notions of "like cures like", just a few drops of this oil are pressed into the face and neck each morning to allow it to relax and right itself of excess sebum (oil). Contains carrot, anthyllis, St John's Wort and wheat germ oil. (Stockists ph, toll free, 0508 423 737 or see drhauschka.co.nz)
Shiseido Ultimate Cleansing Oil $39
Especially formulated to remove foundation and water-resistant sunscreen, this Shiseido oil lathers up when it is rinsed off, and leaves skin feeling silky smooth. (Brand counters.)
Tebe Face Hydrating Wash $19.90
A nice gel wash to use in the shower, this has been reformulated with the addition of olive leaf extract. It also contains almond oil so skin won't feel taut. The economical, Auckland grown, olive oil-based Tebe range doesn't include a standalone oil, though its founder swears by drinking a shot of extra virgin olive as a health tonic each morning. From next month, look out for Tebe in new, smarter packaging. (From pharmacies and selected gift stores.)
Elizabeth Arden Green Tea Revitalize Moisturising Body Rinse $45
Refreshing Green Tea fragrance is carried in this sesame and coconut oil rich splash. Use it as an alternative to a body lotion. Lavish on limbs and then rinse off, leaving skin smooth and smelling fresh. (Brand counters.)
Weleda Almond Facial Oil for Sensitive Skin $24.90
Used since Biblical times, almond oil has plenty of essential fatty acids and vitamin E. Weleda rate it for balancing sensitive skin and restoring vitality to dry skin. It's gentle enough to use as an eye makeup remover or apply it nightly as a deeply penetrating treatment. (weleda.co.nz)
Antipodes Divine Facial Oil $33
A sweet smelling oil that soaks in and leaves skin feeling pillow soft. Antioxidant and fatty acid rich, this can be used to moisturise twice daily, or use it serum-style under day or night creams. (antipodesnature.com)
The good oil
Pharmacist-turned-aromatherapist Fay Blomquist shares some oil guidelines:
* Plant-based oils have a low incidence of irritation and sensitisation.
* Oils have different absorption rates. Sweet almond oil absorbs slowly, providing the slippage ideal for massage. Apricot kernel oil is light and easily absorbed, making it suitable for dry, sensitive facial skin.
* Jojoba oil, a liquid wax, absorbs well and suits all skin types, including oilier complexions.
* Jojoba or the faster-absorbing macadamia are good all-purpose body oils.
* Avocado oil offers skin nourishment and rosehip skin regeneration properties.
* Essential oils are added to a "carrier" oil for aromatherapy benefits. "I can't imagine a massage without them," says Blomquist.